This post may contain affiliate links. You can read my affiliate policy here.
Do you love spending time with your friends but worry that you are not being very healthy when you do? Or do you want to get healthier in general and are looking to your friends as support? Be inspired by these 11 good things to do with friends that will better your health as well as deepening your relationships. Share it with your friends and pick one idea to try the next time you are spending time together!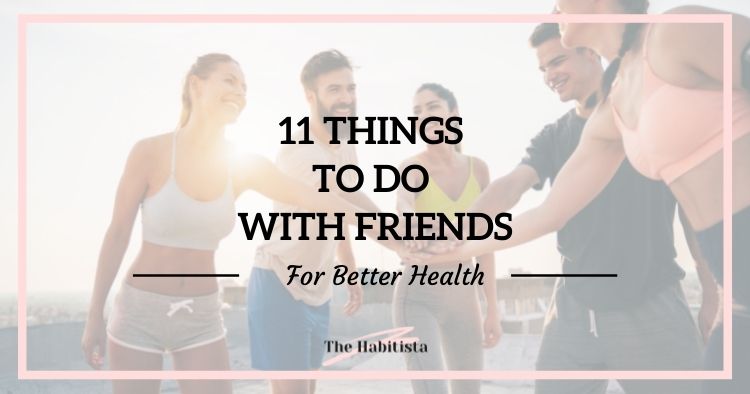 How Friends Impact Your Health
Good friends are not only fun to hang out with, they are actually good for your health. Strong social connections will reduce the risk of many health problems including high blood pressure, an unhealthy BMI and depression. It even increases life expectancy!
By just spending time with close friends and family, nourishing healthy social relationships, you will do your health a big favour. But we don't need to stop there. We can also use the time we spend with friends to do things that are generally good for our health (rather than just go down the pub every time we hang out).
The best thing is, by doing healthy things with your friends, you will strengthen the bonds of friendship, which in turn will continue to improve your health. Double win!
Read More: How to Achieve your Goals in Life: Choose Your Friends Well
11 Good Things to Do with Friends for Better Health
There are so many good and healthy things to do with friends, but we usually do the same (often unhealthy) things with the same friends. And while there is nothing wrong with the occasional indulgence, we may want to mix it up with some healthy activities every now and again!
Do you have friends you do different friends with? You might meet some friends at the pub after work, invite others for dinner parties or to share a Sunday roast? And there might be others you always meet for wine, shopping or a night of board games?
We humans are creatures of habit, but sometimes it's good to shake things up. Why don't you suggest you do something different next time you meet up with your friends? In addition to spending time doing something healthy, it will do great things for your friendship to do different things together.
Healthy Things to Do with Your Friends at Home
1. Cooking Together
Do you regularly meet friends for a meal, either eating out or at someone's house? Why not cook the meal together?
This way you will eat a healthy homemade meal and you will have the satisfaction of having accomplished something together.
For bonus points, why not meet earlier in the day (or week) to get some of the ingredients? You can go berry picking, visit a farmers' market together, or do an excursion to a farm shop (preferably one that also serves a good cup of tea!). This way you get to spend even more quality time together while working towards a common goal.
Read More: How to Learn to Cook at Home: 4 Simple Habits you Need to Succeed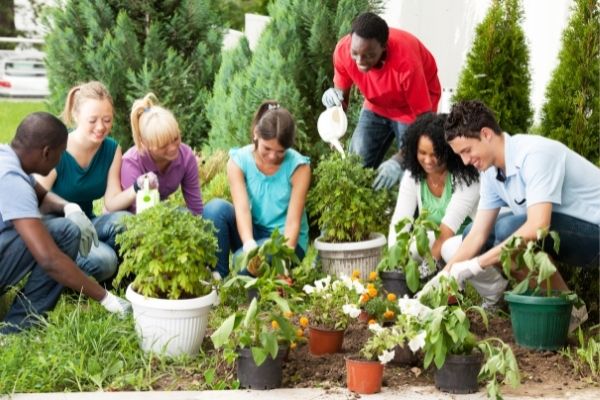 2. Garden Work
If you and your friends live in houses with gardens, you know how much time you need to spend on yard work to have the garden you wish for. And this is usually time spent alone – but why should it be?
Get your friends together and take turns working in each other's gardens. Most garden and yard work is a lot easier, and quicker, when you can help each other. And as a bonus, you spend time together outside, working muscles and building friendships.
Healthy Things to Do with Your Friends Outside
3. Exercise
Do you want to start an exercise routine? Do it with a friend or two! You will get accountability to keep you going as well as quality time with your friends.
For bonus points, chose something outdoors like going on walks and hikes, go paddle boarding, play tennis or whatever activities you enjoy doing together.
Read More: Cardio vs HIIT vs Weight Training: What is Best for You?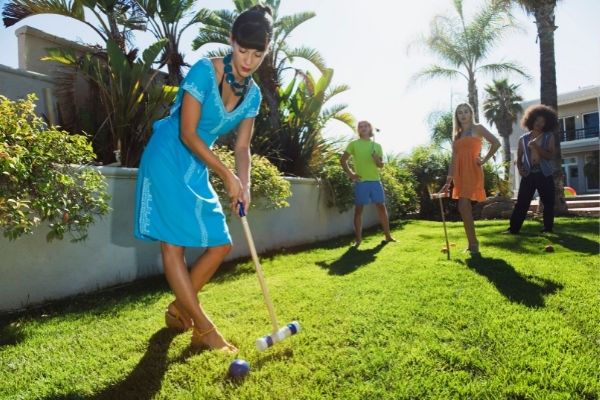 4. Picnic Activities
Do you love meeting your friends for a picnic on a lovely summer's day? Me too. This time though, in addition to the food and drink, pack an activities bag. Remember, picnic games are not reserved for the kids, everyone can enjoy playing disc golf, croquet or even bocce ball.
What did you use to enjoy as a kid? Chances are you will still enjoy the same things today if you just give it a try.
5. Go For a Walk or Hike
Meeting a friend for a walk or a hike is a great way to get you moving outside while spending true quality time with a friend. And if you usually meet for coffee, food, or drinks you can still do that, just take a walk first and you will be enjoying your reward so much more.
Read More: A Beginners Gudie to Hiking in Barefoot Shoes
6. Explore Activity Centres Nearby
Most towns have some sort of activity centres. They can have activities widely ranging from badminton, tennis, and other ball sports to water sports, trampolines, or maybe even indoor skiing!
Do you know what's available in your area? Have you tried it out? Get a friend involved and set out to try the activities your area has to offer.
Activities to Do With Friends for Better Health
7. Go Dancing
Dancing is a great way to exercise that's also a great time out with a friend. Join a dance party, take classes, or just dance it out in someone's home. Dancing has historically been of great importance in many communities, let's bring it back into our society.
Read More: Move Around More at Home: 10 Fun Ways to Get Moving Today
8. Book an Activity
When was the last time you scheduled an activity like bowling, laser tag or minigolf? They are not only for kids and corporate outings but can be a great way to spend time with friends.
Get some friends together and book a time, most of these activities don't take more than an hour or two so can be a great addition to a day out or something to do together before a meal.
9. Take a Spa Break
Doing something for your health doesn't always mean to do something active. Sometimes, the best thing can be doing as little as possible. And what better way to relax than to book a spa day with a friend?
Let yourselves be pampered, relax, and enjoy each other's company.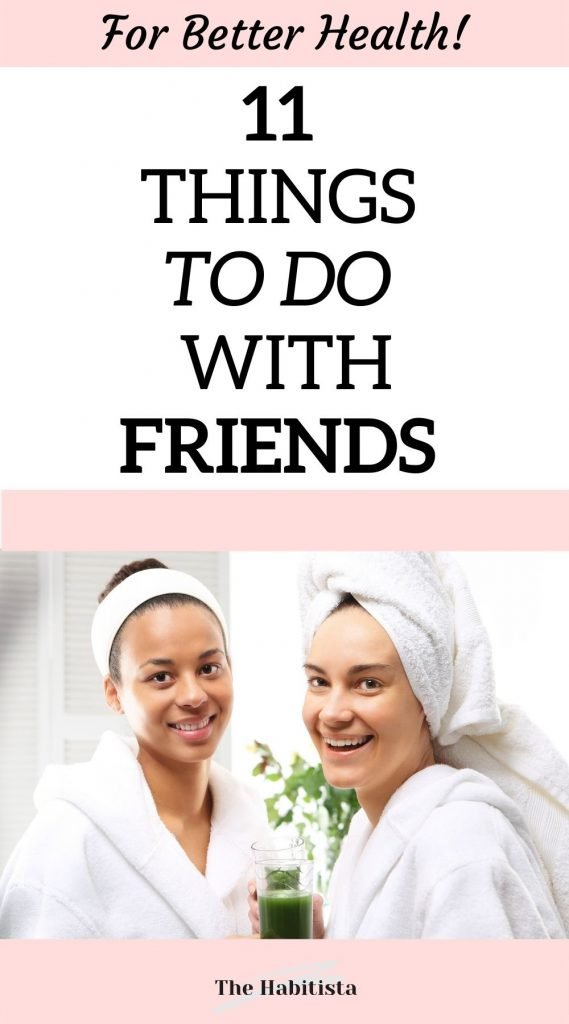 10. Volunteering
Volunteering can be a great way to get out and about, and if you don't have a friend that want to volunteer with you, it is also a very good way to make new friends that will have similar values to you.
When we think about doing things for our health, we often focus on our physical or mental health, however, our social health is equally important, and volunteering is a great way to both give back and surround yourself with good people.
11. Activity Holiday
Do you go on holiday with friends? Why not make it an active holiday this year?!? There are great options to choose from, such as yoga retreats, hiking holidays, rafting, cycling, or why not go skiing?
If you prefer a beach holiday with other families, you can still make it a focus to do different beach and water activities like beach-volley or snorkelling, and if you stay in a place with a kitchen, you can make some healthier meals with lovely local produce instead of eating out for every meal.
More Healthy Things to Do with Friends
This list is just a starting point. Get together with your friends and make a bucket list of activities you would like to do together. Maybe you want to visit all the national parks, try out different yoga retreats or train together for an event like running a marathon on the great wall of China!
Once you have agreed on activities you would like to do, don't leave the list there in the bottom of a drawer, but take action and try one of them. No one else will do the booking and organising so you might as well get started. And the best thing with organising – you get to make many of the decisions and prioritise what activities to try out first.
Finding things to do with friends to improve your health isn't difficult, but as with all change, it takes some effort initially. Once you get into the habit of doing healthy activities with friends, it will feel completely normal and not take any additional effort.
And remember, you don't have to be healthy all the time…..
Read More
25 Benefits of Moving Your Body More You Need to Know
10 Ways to Move the Body That Even You Can Do
10 Health Benefits of a Daily Morning Walk
How to Improve Your Physical Health and Wellness with the 3 M's
Your Health is a Priority: A Complete Guide to a Healthy Life
Book Tip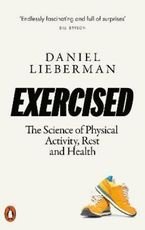 Exercised explains everything you have ever wanted to know about exercise:
Why do so many of us avoid it even though we know it's good for us?
Is sitting really the new smoking?
Does running ruin your knees?
Should we do weights, cardio or high-intensity training?
How to we make sense of the conflicting, anxiety-inducing information about rest, physical activity and exercise we are bombarded with every day?
Lieberman, professor of human evolutionary biology at Harvard University and pioneering researcher on the evolution of human activities, approaches this exciting topic in a way that's both entertaining, enlightening and constructive. A must read for anyone trying to figure out how best to exercise.
Check out Resources for Personal Development for more tips!