This post may contain affiliate links. You can read my affiliate policy here.
You know you should be moving your body more, right!?! But it's not always easy to get motivated when the couch is so tempting. Get your motivation back with these 25 scientific benefits of moving your body that covers everything from cardiovascular health and weight management to better sleep and mental health.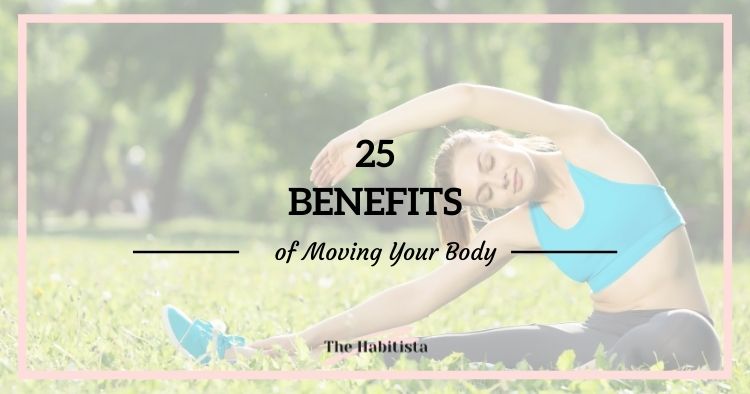 25 Benefits of Moving Your Body More
Benefits of Moving Your Body on Cardiovascular Health
1.      Better Heart Chambers
When you move and exercise your heart chambers grow stronger, larger and more elastic which will increase the volume of blood that 's pumped in every single heartbeat. This will, amongst other things, provide more oxygen to your muscles.
2. More Red Blood Cells
Red blood cells carry oxygen to all our cells, and one of the benefits of moving your body is that you increase the production of red blood cells, so that more oxygen can be carried to your muscles and other cells.
3. More Plasma in the Blood
As the number of red blood cells increases with movement and exercise, the amount of plasma in the blood increases as well, making sure that the blood can still pump easily with all the new red blood cells.
4. More Blood Vessels in Muscles
By moving your muscles, you encourage your blood vessels to expand further into the muscles, helping to oxygenate them and increasing their endurance. This is true of all muscles, including the heart that also grows stronger with exercise.
5. More 'Good' Cholesterol
Good cholesterol (HDL) removes 'bad cholesterol' from the blood vessel walls leading to….
6. Less 'Bad' Cholesterol
Exercise helps remove 'bad' cholesterol (LDL) from the blood, and the blood vessel walls, to the liver. The liver then either uses or excretes the LDL from the body, thus, the more you exercise the less 'bad' cholesterol will clog up your arteries.
7. Strong Heart
With better heart chambers, and more arteries brining more red blood cells carrying oxygen to your heart, it grows overall stronger the more you move.
8. Low Resting Blood Pressure
With a strong heart and a lot of arteries and a lot of red blood cells carrying oxygen, the body's resting heart rate will go down, a clear marker of good cardiovascular health.
Benefits of Moving Your Body to Muscles
9. Increased Number of Mitochondria
Mitochondria is the cell's engine. They use oxygen and glucose to produce the energy we use to move the muscle. Moving more makes the muscle cells produce more, and better, mitochondria, which will use more oxygen and more glucose to make even more energy.
10. Growth of Muscle Fibers
When you use your muscles, they start growing more muscle fibers, basically growing your muscles, helping you move more and move better.
11. Release of Growth Hormone
Growth Hormone is released when you move more and will impact a number of functions in your body, including how you use your energy, and it will help your muscles repair themselves after exercise or injury.
Benefits to Your Weight of Moving Your Body
12. Increased Ability to Store Carbohydrates
The human body is designed to be able to store glucose as glycogen in muscles, so that it's readily available if we need to move quickly before the blood can provide more glucose. Moving and exercising makes the body better at storing carbohydrates, removing excess sugar from the blood.
13. Reduced Abdominal Fat
Excessive fat, especially around your stomach, increases the risk of death from a large number of causes. Moving more reduces the size of fat cells, especially in the abdomen. This is important as a reduction in size of fat cells reduces the risk of diabetes.
14. Improved Ability to Burn Fat
When we move more, we increase our ability to use fat as fuel. This is due to a number of factors, but a main reason is because of the increased quality of the mitochondria discussed previously.
15. Weight Control
The increased ability for the body to store carbohydrates, reduce fat cells and the body's ability to burn fat, all help in weight management. In addition, when you move, you burn calories that will help your weight management as well. This is especially true when the movement is not so intense as to cause additional hunger, like walking or moving around the house.
Other Physical Benefits of Moving Your Body
16. Lower Inflammation
Increased fat tissue leads to a number of health risk, including diabetes, but it is also known to contribute to systemic inflammation, which can lead to heart disease, arthritis, depression, Alzheimer's disease and even cancer. As movement and exercise reduces the fat cells, the risk of chronic inflammation lowers. In addition, exercise lowers systemic inflammation through a number of other nerve and hormonal pathways.
17. Increased Sex Hormones
Physical activity can help boost the production of both testosterone and oestrogen, which is especially important as it can help slow the natural effect of aging such as decreased muscle mass and strength, and can help take the edge off menopause symptoms in women.
18. Stronger Bones
Most movement will increase your bone strength to some degree, including walking, with the main exceptions being exercises done in water as there is less pressure on the body, and cycling.
19. Better Joints
As long as we don't overdo it and injure our joints, movement is very important for keeping us mobile. The increased blood flow and oxygen in the blood that comes from moving more will provide more nutrients to the cartilage in our joints, keeping them healthy.
Joint health is also improved by the strengthening of muscles, that helps protect them.
20. Stimulates the Immune System
Movement and exercise is great for the immune system, up to a point. If you have a really hard exercise session, especially without the rest you need between sessions, it can actually suppress your immune system, making you more susceptible to illness.
However, as long as you are moving moderately, and taking rest as you need it, exercise will increase the circulation of immune cells, better prepare for, and detect, a future infection.
21. Improves Brain Function
As we discussed in the cardiovascular section, blood flow will increase in our body when we exercise, and this includes to the brain. This increased blood flow provides more oxygen to the brain which in turn will make you think better.
Long term, movement will also help the brain by stimulating new connections between cells in many important areas of the brain.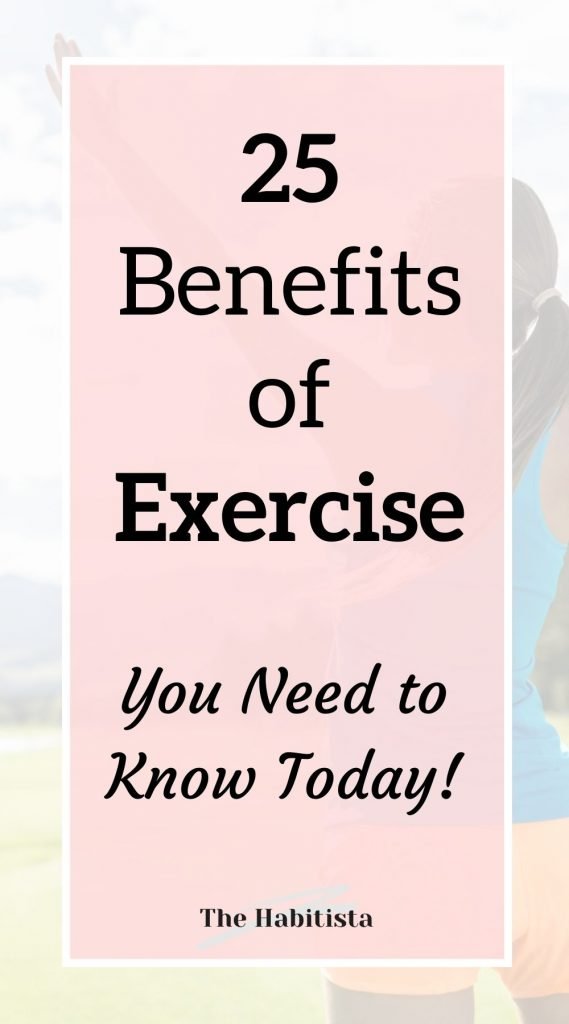 Benefits of Moving Your Body on Your Mental Health
22. Decreased Stress
Exercise will reduce stress by lowering the amount of stress hormones such as adrenalines and cortisol.
23. Improve Mood
Movement and exercise will increase the production of endorphins, which is the brains 'feel good' substance which both acts as a natural pain killer and helps our mood. Endorphins are also responsible for the famous 'runners high' and for making you feel relaxed and optimistic after a good workout.
24. Better Sleep
Exercise will help you fall asleep more quickly and improves sleep quality. How this work is still under investigation, but scientists agree that it is helpful, even though they don't know the exact mechanisms.
If you exercise outside, particularly in the morning, it will help even more, as that helps lower melatonin levels, helping your circadian clock.
25. Reduced Anxiety
Movement and exercise reduce anxiety in several ways:
Provides a distraction from your thoughts
Decreases muscle tension, which contributes to the feeling of anxiety
Increases feel good brain chemistry
Helps control the amygdala in the brain, which is where we react to real or imagined threats
Benefits of Moving Your Body and Exercising More
The benefits of physical activity are many and they impact your whole body. It is scientifically proven that you will feel better, think better, you will be less sick, stronger, more energetic, and generally live a healthier life, if you just move more.
So how much do I need to move, and does it matter how I do it?
How Much Should I Move and Exercise
Let's start with movement. Weather or not you exercise, it's important to keep moving throughout the day, something that's difficult for many of us with sedentary jobs. Try to get up and move around at a minimum every hour, to use your muscles and keep your blood flowing.
Check out the below posts for how to incorporate more movement into your day:
Read More: 10 Ways to Move the Body That Even You Can Do
Read More: Move Around More at Home: 10 Fun Ways to Get Moving Today
When it comes to exercise, some is good, more is better. The scientific community is agreed that the minimum of exercise (including brisk walking) you need is 150 minutes per week (30 minutes per day) but the more you do, the more benefits you will get, as long as you don't exhaust yourself.
If you are considering starting, or upping, your exercise, it' important to consider which type of exercise would work best for you. Take a look at the Cardio vs HIIT vs Weight Training: What is Best for You? post, to figure our what you need.
Read More
Your Health is a Priority: A Complete Guide to a Healthy Life
A Beginners Gudie to Hiking in Barefoot Shoes
9 Surprising Benefits of the Dead Hang
10 Health Benefits of a Daily Morning Walk
12 Exercise and Mental Health Quotes: Live a Better Life
Book Tip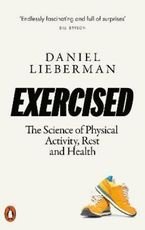 Exercised explains everything you have ever wanted to know about exercise:
Why do so many of us avoid it even though we know it's good for us?
Is sitting really the new smoking?
Does running ruin your knees?
Should we do weights, cardio or high-intensity training?
How to we make sense of the conflicting, anxiety-inducing information about rest, physical activity and exercise we are bombarded with every day?
Lieberman, professor of human evolutionary biology at Harvard University and pioneering researcher on the evolution of human activities, approaches this exciting topic in a way that's both entertaining, enlightening and constructive. A must read for anyone trying to figure out how best to exercise.
Check out Resources for Personal Development for more tips!