This post may contain affiliate links. You can read my affiliate policy here.
Do you have a goal you want to achieve but you just don't have the time or the energy to work on it? Or are you feeling like you're on the stuck on the hamster wheal with no way off? In both cases making a list of your personal resources is a great tool to find ways to make changes.
Learn how to make a useful list of your personal resources and you will realise how to spend your time, energy, attention and money in a way that works for you, and that takes you where you want to go. And the best thing is, you will surely realise you have more resources than you ever thought was possible!
What are Your Personal Resources?
Your personal resources are, as the name implies, the resources you as an individual have access to. If used mindfully, you can use your personal resources to achieve your goals and to design a life you want to live.
If not used mindfully, your personal resources may be depleted by bad habits, lack of intentionality, and other people's expectations.
So, what are your personal resources?
Time: Time is a finite resource. You can't make more, and you don't know how much you have in a lifetime.
Energy: We have physical energy and mental energy. We can create more by building habits to increasing our energy, but only up to a point.
Attention: Spending time and energy on something is not the same as giving it your attention. Attention is a critical personal resource – use it mindfully.
Money: You can trade your time, energy, and attention to make money. You can also use money to pay others to provide services so that you don't need to use your time, energy and attention on those tasks.
Read More: Personal Resource Management: How to Use Your Personal Resources
Why Make a List of Your Personal Resources?
There are two different times when making a list of your personal resources can be very useful. The first is when you are trying to solve a problem, for example:
You want to start exercising but feel you don't have the time or the energy.
You are considering starting a side hustle, starting your own business or look for a new job.
Finding opportunities to spend more quality time with your family, partner, or friends.
The other reason to make a list of your personal resources is to strengthen yourself. If you are feeling alone, like you are not strong enough, or like opportunities never comes your way, listing your personal resources is a great way to articulate what resources you do have.
It can help you feel supported, stronger, and let you see that there may be ways of changing you haven't yet considered.
Read More: The Best Way to Use Your Personal Resources for Health
How to Make a List of Your Personal Resources
We can make a list of our personal resources by making a deep dive into the four categories of personal resources and list what resources you do have, making them concrete, tangible.
Get out a sheet of paper or open a document on your computer and let's get started!
List of Personal Resources: Time
The first category is time. First, make a list of the time you do have in your day, where you can choose what you do.
Do you have time in the morning before going to work?
In the car, on the train or when you walk to work?
In the evening?
Saturday morning?
Sunday night?
Next, consider what additional time you could give yourself by making other choices.
What if you chose to watch one episode of Netflix in the evening instead of two?
Could you start a carpool for your kid's activities to free up time when it's not your turn to drive?
Do you have a candy crush, Instagram or reddit habit that eats up more time than you want to admit?
By questioning everything you do in a week, you will find time that you have, and time you can chose to create. This is the time you have to focus on your priorities.
Read More: How to Make Yourself a Priority – Not Just an Option
List of Personal Resources: Energy
We all want more energy throughout the day. To get more energy we need to identify what gives us energy and what activities are energy thieves.
Let's start with your energy thieves:
What activities makes you feel drained? This may be things at work, some 'friends' or family members that always make you exhausted, or cleaning the house, knowing you have to do it again in a week!
Are there things you do to relax that actually steels your energy? Anything that creates a dopamine loop will drain your energy such as drinking alcohol, scrolling social media and even having the next episode on Netflix start automatically!
List what in your life drains your energy. What if you didn't do those tasks? If you didn't spend time with those people? It would give you back energy to spend on your priorities.
Read More: Do Your Habits Deplete Your Personal Resources?
Now, let's look at what gives you energy:
Do you feel more energetic when you spend time with, or talk to, certain people?
Do you get more energy by being outside, exercising or eating high quality food?
Are there ways of relaxing, like reading a good book or a hot bath, that restores your energy?
Write down all activities that increases your energy.
Finally, are there changes you can make that would give you more energy? What if your kids started helping with the dishes? Or paid for someone to clean the house? Or prioritising a day at the spa when you need one? Any ideas, no matter how farfetched they seem, goes on the list.
List of Personal Resources: Attention
It's not uncommon that we try to multitask, can't stop thinking about work, or have our heads in our phones when we're spending time with our family. This way, we don't get as much out of the activity we are doing, and it can rob us of the opportunities to achieve our goals, of living the life we want to live.
Now, list any times during the day when you do not focus on the task at hand.
Do you scroll on your phone while supposedly doing something else?
Do you think about work during the family dinner?
Or thing about your sick cat during an important work meeting?
Are there times in your day when you don't give what you are doing as much attention as you want to?
Having identified areas of improvement, we can now shift our focus to what you truly want to focus on.
Do you have specific goals you want to achieve?
Are there things in your life you don't want to miss by not paying attention? Like time with your partner, kids or just having a good time with your mates?
What are your priorities in life, that truly deserves your full attention?
Read More: Listing Your Personal Core Values Will Help Guide Your Choices
List of Personal Resources: Money
As we said in the beginning, money is a renewable resource that you can trade your other personal resources to make more of. Or you can use to make more of your non-renewable resources. You need to prioritise what is worth it to you.
Spending Money
Let's start with spending money. Take a look at your bank statement for the past couple of months:
Do you spend money on things you don't use or that isn't really important to you? Like a subscription you don't use or those boots you haven't worn?
Look at your big-ticket spending, like your house, car payment and food bills. Is it worth it to you? Or would you be equally happy living somewhere less expensive, driving a less expensive car or having less takeaways? There are no right or wrongs, only you know what is worth it, to you.
Next, let's look at what you are spending money on that is worth it to you:
Do you love your weekly dinner out with your friends? Keep doing it.
Is it the highlight of your week when your magazine lands in your mailbox? Set it on autorenewal.
Finally, are there things you would get value of spending more on?
Would your life be better if you had more money saved or invested?
Can you free up your time and energy by letting someone else clean your house, paint your house, or clean your car?
Is a day at the amusement park, a spa, or just going for a hike, the best way for you to switch off and re-charge? Spend money on it !
Take a look at your lists and consider your priorities. Is your spending in line with your goals, your values and how you want to live your life?
Making Money
When we focus on money it's easy to just focus on spending, but the time and energy (and attention) it takes to make money is equally important when we list our personal resources.
Are you spending the right amount of time making the right amount of money?
Is the time, energy and attention you spend at your day job worth it? Calculate how much you make per hour (and include all the time it takes to do the job such as commuting time). If not, are there ways you can either earn more or work less? Is it time to change jobs, negotiate a salary increase, become fully homebased, or go part time?
Do you have a side hustle? Is it worth the time, energy, and attention? And if you don't have a side hustle, should you? Is there something you enjoy doing that you can also make money from that would be worth it, to you?
Consider what you can do with the money, like paying someone else for what you don't like doing, save, invest, or spend on what is worth it to you. How much should you be working, and what should that work consist of?
Read More: Value-Based Spending: How to Feel Calm About Your Money
Adding Your Social Resources
So far, we have been working strictly with your personal resources, however, when putting together a list of your personal resources it may also be very valuable to consider your social resources.
Are you aware of anyone who would support you or help you if you just asked?
What are Social Resources?
Personal resources, as we have discussed, are completely personal. These are resources that YOU have. Social resources, on the other hand, are resources that are embedded in your social network.
For example, you might be doing this exercise because you want to find a way of exercising three times a week at the fancy gym across town. You have used your personal resources to make time, energy, and money to pay for the gym, however you don't have a car to get there.
If you only consider your personal resources, you will then need to find the money to buy a car or bicycle to get there. If you consider your social resources on the other hand, you may find that you can get a ride with your friend who also uses the gym!
Read More: How to Achieve your Goals in Life: Choose Your Friends Well
List Your Social Resources
Consider what social resources you have in your life. If you are using this exercise to solve a specific problem, consider how anyone you know (or anyone accessible to you, like a librarian or a free helpline) could help you. Do you know anyone that can babysit, carpool, lend you something, or just be there to support you, to help with your mental energy?
If you instead are using this exercise to look at your resources holistically, list everyone you could possibly ask for help, support, or that can just be there for you. This can be a difficult exercise but it's important.
Is there anyone who has ever asked if they can help you?
Anyone you could ask if you really needed it?
Consider everyone in your social network – friends, family, co-workers, acquaintances… people are often more willing to help than we first want to consider.
List anyone and anything that could be a resource for you.
Use Your List of Personal Resources
Now you have a comprehensive list of your personal resources, and you are in the perfect position to use it to improve your life and solve that problem. Remember, thinking about things are great, but unless we take action nothing will ever change.
As you review your list is there anything that stand out that you want to change?
There may be a lot of things you could change that would help you get where you want to go. If that's the case, consider the effort involved in making the change, how much impact it would have on your life, and choose a couple of things to start with.
By not trying to do too much at once, you can focus at getting a couple of things right, and you can always come back to the list later, and pick the next thing to change!
Need help building or changing a habit? Download the free habit worksheet below to help you build a sustainable habit that really works for you.
Read More
The Inner Work to Do to Achieve Your True Goals
7 Inner Work Exercises: 1 Week to a Better Life
Habits to Improve Your Life: The Ultimate Guide
Goals and Systems: How to Achieve Your Wildest Dreams
Your Health is a Priority: A Complete Guide to a Healthy Life
Book Tip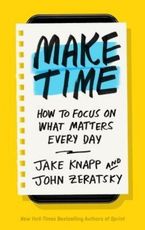 Our most limited resource is time. At some point we will all run out of it, and we have no idea when. So, are you making the best of the time you have? Most of us don't.
And I'm not talking about cramming every day full of activities that make you exhausted but filling your time with what gives you value rather than having it just disappear into a black whole of smartphones, emails and to-do lists.
The most powerful part of Make Time is the discussion about "infinity pools" and how you can avoid getting sucked in spending a lot more time on things you hadn't planned. Read the book and take back control of your time! (And feel free to ignore their advice on how to drink coffee….)
For more tips, go to the Resources for Personal Development page.