This post may contain affiliate links. You can read my affiliate policy here.
Do you have a habit that you spend a bit more time on than maybe you should? Something that you know you should do less off, but you are not sure you really want to? Most of us do. We spend a bit too much time on social media, indulge our love of shopping, or have just a wee bit more wine than we know is really good for us.
It's easy to excuse these habits as personality traits, an acceptable indulgence in our other healthy lives and it's not that we are addicted or anything. When we try to improve our lives, these things would often be big wins to increase our personal resources, however they are often difficult to give up. And we don't really want to – we have to have some pleasure in life!
But what If we did give them up, or at least reduced them, what would that do to our personal resources?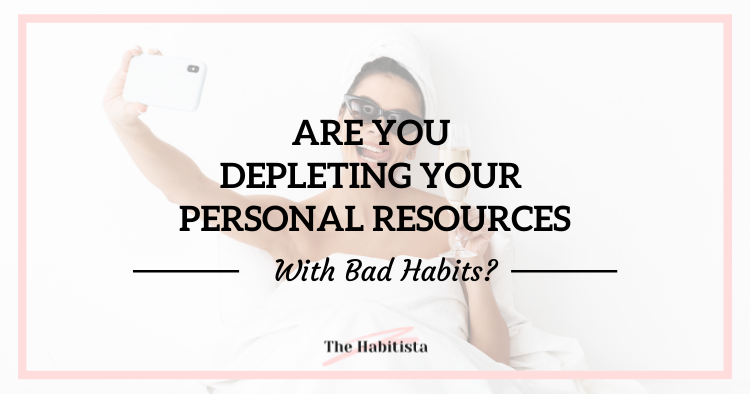 What are Personal Resources?
Your personal resources are the resources you have that determines how you spend your life.
Time
Energy
Attention
Money
How you use your TEAM, your personal resources, is how your live your life.
Personal Resource: Time
Time is the ultimate non-renewable resource. We only have so much. We cannot make more, and we don't know how much we have left. What we spend our time on is how we live our lives.
Personal Resource: Energy
Time does not come equal. An hour when you are well rested, mentally fired up and generally feel well, is a lot more valuable than the hour you crash on the couch after work, feeling too drained to do anything but binge-watching Netflix / scrolling social media / have a drink.
Personal Resource: Attention
If you have any kids in your life (your own or others) ask them how fun it is to spend time with you if your attention is constantly on your phone. Yes, you are spending your time and energy playing with the kids, but what about your attention? Are you really experiencing the presence if your mind is constantly elsewhere?
Personal Resource: Money
There is a lot you can do with money that impacts your life. You can spend it on pretty things. On experiences. You can buy a large house that needs time, energy and attention. You might by services like cleaning, car maintenance and home delivery.
Or you might save or invest it, if securing your future is a priority.
Used mindfully, money can help you buy other personal resources. You can buy services to buy yourself more time and energy. You might by insurance, save for your pension or whatever you need to stop worrying about the future and pay attention in the present day. If not used mindfully, however, how you spend your money can negatively impact your other personal resources in a way that you didn't want or plan.
Read More: Personal Resource Management: Use Your Resources for Success
Read More: How to Make a (Useful) List of Your Personal Resources
Personal Resource Thieves
The things, the habits, that steal our personal resources usually have an addictive quality. Don't be scared, I'm not going to call you an addict or anything, that word that has very negative associations and that most of us instinctively shies away from and absolutely do not want to be associated with.
What I mean with addictive qualities is that they give you an instant burst of joy, some on demand pleasure, and then create a craving for more:
Yay, someone new liked my post!
Pretty dress – mine!
Cold glass of white wine… and relax!
Oh look, a new email!
New level – completed!
Cute cat in my social media feed!
Reward System
In Psychology Today, Dr. Susan Weinschenk explains why we end up spending a bit more time, energy, attention (and sometimes money) to get these rewards than we originally intended.
The body loves pleasure. If something gives us pleasure, we want it. And we want it again! What makes us want it is dopamine. Dopamine is often referred to as a pleasure chemical but it's more correct to say that it's the wanting or craving chemical.
You probably heard of Pavlov's dogs. Pavlov rang a bell before feeding the dogs and soon they started salivating in anticipation of the food, just by hearing the sound of the bell.
That is dopamine at work. Dopamine makes us want things on a physical level, and it's particularly connected to triggers or queues like the bell, the end of the workday, or the que to reach for our phone when our alarm goes off (what, the phone is my alarm, why would I not check social / email / news when I have it in my hand already ?!?).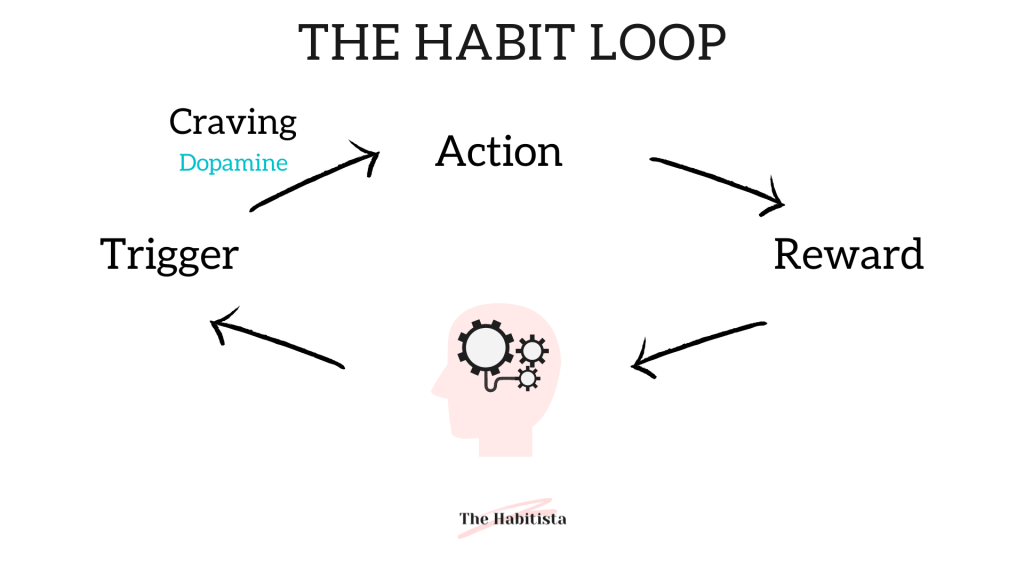 When we mindfully create good habits, we use this loop to make us want to do whatever it is we are trying to do. However, it can also work against us, particularly when the reward we are getting is not a reward in line with our priorities.
Read More: Long Term Habits: How to make Habits Last a Lifetime
The Dopamine Loop
The real problem with the dopamine loop is that the more we lean into it, the stronger it gets.
Have you ever started playing a computer game (or Candy Crush on your phone) and noticed that you spend more and more time on it?
Do you spend more and more time on social media or checking email?
Do you drink a a bit more, or eat a bit more sweets, when you're on holiday and can "relax and do what you want"?
Every time you get the reward of a new picture or article in your feed, you complete a level in Candy Crush, you relax with a drink or you buy a pretty bag you didn't really need, the dopamine loop grows stronger.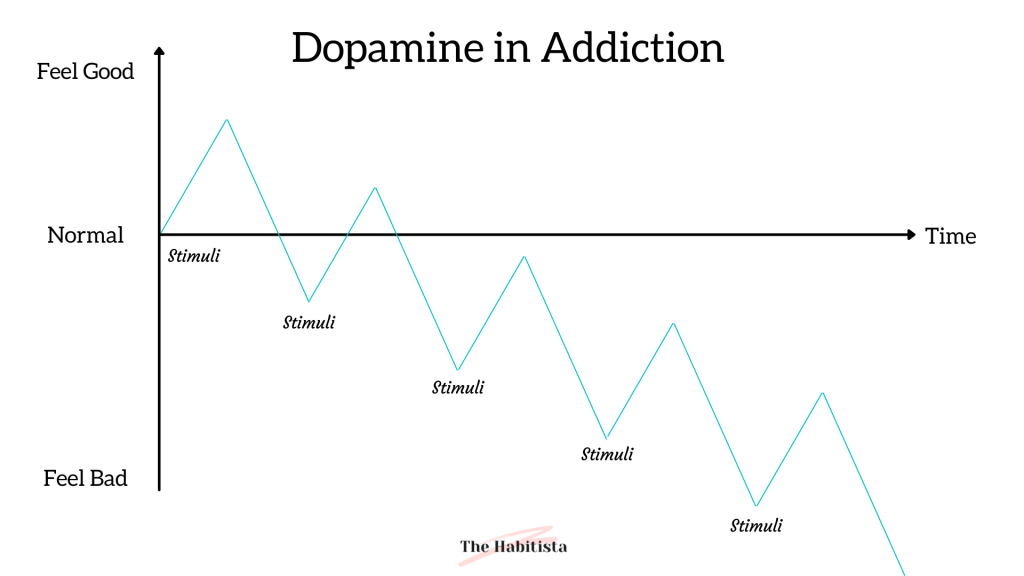 The real problem here is that you are searching to get to "enough" but that's not how the system works. In truth you might never be satisfied as it takes more and more satisfaction to get back to where you started.
It's much more likely that you stop because you get interrupted. It's time to make dinner. Your partner came home. Someone or something requires your time, energy or attention that is stronger than the dopamine craving. But the longer you stay in the dopamine loop, the more it takes to interrupt you.
Stopping the Dopamine Loop
There are two ways you can stop the dopamine loop, one is temporary and requires you to mindfully change your response to the dopamine craving at times when the ingrained response (check your phone, have a drink, by a pretty dress) don't serve you. This is a more difficult path as it requires you to make a decision every time you get a craving.
Will this burger, chocolate cake, email check, serve me right now? And if not, is there something else I can do instead when the craving hits? Take a walk? Rest? Eat a healthy snack?
The other way to stop the dopamine loop, and this time forever, is to go cold turkey. Just quit. Close your twitter account, become tee total. You may even stop reading the news if you keep updating the breaking news page on your phone every 5 minutes!
I'm not going to tell you which way to go, what I can tell you is that the sometimes indulgence will take more of your time, energy, attention and possibly money, to manage than to just quit.
Some behaviour is necessary however:
We need to eat.
Most jobs require you to check your email.
Many employers require, or strongly encourage you, to be present on LinkedIn or Twitter.
For these behaviours, creating strong habits and rules around how you engage in these activities may be your best options. And to be able to reinforce them, you need to be completely certain that you want to, so let's take a look at the impact of Personal Resource Thieves.
Common Personal Resource Thieves
Drink
Drinks (alcohol) can in some cases become physically addictive but that's not what we are talking about here. We are talking about normal drinking and what it does to your personal resources, to your TEAM.
Alcohol, even indulged on limited occasions, is one of our biggest time thieves. It doesn't just take away the time while you drink it, which may be perfectly fine if you are enjoying an evening with friends. But it will also make you tired the day after as even low consumptions of alcohol will impact your sleep and therefore your energy the day after.
Alcohol, or anything that triggers the dopamine craving, also steals our attention. Every time we get triggered, whether we act on it or not, being in the dopamine loop will pull our attention away from what we are doing and we will either give in to the craving, or we need to employ deliberate tactics to avoid acting on it.
Imagine being out for a walk on a beautiful summers evening. You pass a really pretty bar with outdoor seating by the water, and you hear people enjoying themselves while having a drink. Bam! Trigger! Dopamine loop engaged. You too want to have a drink, relax and have fun like all the other people!
However, you have an early start the next morning, so you disregard the craving and go home and go to bed. Good right?!? Yes, well, did you still enjoy your beautiful evening walk as much after the craving set in? Or did your attention get pulled away while you focused on resisting your craving?
It's not always about what happens if we give into the craving, but just having the craving takes our attention away and cause a feeling of dissatisfaction and deprivation.
Finally, I don't need to tell you that alcohol costs money. A few glasses of wine or cocktails, especially if enjoyed in a bar or restaurant, can very quickly add up!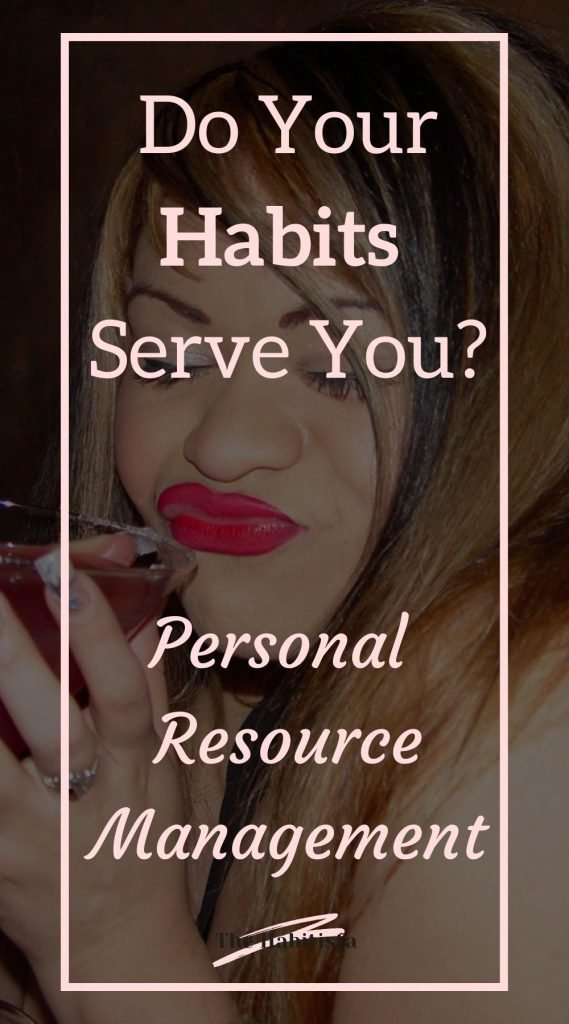 Phones
Our phones are great devices! They can do more and more amazing things every year and in addition to being incredibly helpful with maps, cameras, flight schedules and tickets they also hold a number of dopamine loop triggers that are added as a default in all phones.
Your reward of choice may come from social media, checking emails, playing Candy Crush, or even checking the news. You may think that you are just taking a break but what is really happening is that you are being sucked into a dopamine loop that will leave you feeling unsatisfied and not refreshed, even though you had a break. Not taking proper breaks that will actually refresh and restore you, will significantly impact your energy.
Harvard University Graduate School of Arts and Science published a blog post in 2018 explaining the size of the problem. In the US most people spend between 2-4 hours a day on their phones. That's a lot of time. In addition, increased smart-phone usage cases increased level of anxiety, depression, poor sleep quality and even increased risk of car injury and death!
We crave to use our phones so much that we risk car accident and even our, and other's lives. Are our phones really worth that much attention?
But at least it's free right? True, you are not charged by the hour you spend on your phone, but high mobile phone use will still cost you a lot of money if some indirectly.
The actual phone costs quite a bit of money, and they tend to be more and more expensive every year, especially if you get hooked on having the latest models. In addition, monthly mobile tariffs can be quite expensive unless you shop around for the best deal.
The real cost however, comes from you being subjected to very targeted advertisement. Ad spending on Social Media is projected to reach over 153,698 million USD in 20201 and it's projected to grow with 10.55% per year to 229,581 million USD in 2025 (source). This would not be happening if social media advertisement didn't work!
I could continue to draw up these scenarios for videogames, binge watching netflix, online poker, shopping and a myriad of other things but I think you get the gist of how Personal Resource theves work!
What Can We Do to Take Back Control of Our Personal Resources?
There are two ways to approach these "big wins" to our personal resources, to our TEAM.
One: Quit
The easiest way, even though it might not feel that way right now, is to completely quit what is causing the dopamine loop in the first place. Try deleting your twitter app for a week and see how you feel, once you start to break the habit!
There is two parts to quitting a habit that you crave.
First, you need to want to quit. If you keep wanting to shop / have a drink / be a social media influencer, staying away will feel like deprivation and will only feed the wanting chemical, the dopamine loop.
If you don't yet want to quit, continue learning about this topic until you convince yourself!
Second, find something that gives you what you are actually craving.
Do you check Facebook when tired? Find a better way to relax.
If you go shopping to have fun with your friends? Try doing something exciting that don't involve spending money!
Have a drink to cope with stress? Start running, yoga or mediation! Or phone a good friend and have a chat.
Two: Limit and Control
This is what most people are looking for. A way to keep doing what they're doing, but not let it use up so much of your personal resources.
This is difficult. It takes effort (personal resources). But it is possible.
If you are looking to limit, say, your social media use, I do recommend that you start with taking a break. Have a week – or a month (!) without. A mental detox.
As we have seen, the dopamine loop wants more and more, and trying to reduce is often very difficult. By taking a break you get two big benefits:
You get to see what life is like without being glued to your phone. Finding joy elsewhere will help you remember why you want to cut down!
It makes you find other ways to handle your emotions. You have to try other forms of relaxation than picking up your phone. Learn what makes you feel good – what serves you.
Once you are ready to get back into using social media (or whatever else you are trying to limit) make a plan first. Consider how you want to use social media.
Is it enough to check once a day? One a week?
Is it a good idea to have the app on your phone or is it better to only check socials on your computer?
Can you turn off all notifications, so you don't get triggered to check?
Have rules about in what context you can check socials, like just after work or with your Sunday morning coffee– making sure that it doesn't happen when you are in social situation or when you are so tired you would be better off with a rest.
Final step – never break the rules. Once you break one, you will do it again and again.
And if you do break one, start over immediately. Don't wait until tomorrow, next week or the 1st of January. You messed up. You are human. Consider why it happened, how you can stop it from happening again. Forgive yourself and move on. Today.
Read More: To Quit Diet Coke Taught Me how to Break any Bad Habit
The Rewards
However you decide to go about it, focusing on "big wins" and tackling these habits will make a significant impact on your Time, Energy, Attention and Money. But not just that!
By breaking the cycle of craving you will notice that you start enjoying other things more. True joys, rather than the artificial chemical hits we give ourselves.
Are there things you used to enjoy that have lost their lustre? This may be why.
Take a break and see what happens, what do you have to lose.
Still not convinced you want to change your habit? That's absolutely fine, but before you make your final decision ask yourself this:
Is (wine, candy crush, twitter, shopping etc.) getting in the way of me living my best life?
Read More
Use Your Personal Reward System to Create Habits that Serve You
Habits to Improve Your Life: The Ultimate Guide
The Best Way to Use Your Personal Resources for Health
Accountability to Yourself: How and Why it's Important
Your Health is a Priority: A Complete Guide to a Healthy Life