This post may contain affiliate links. You can read my affiliate policy here.
A habit cue, or habit trigger, is what makes you do something. A cue that let's your brain know it's time to do a habit or a routine. This is an automated process that is often unconscious, making sure that we can free up our brains from performing mountain everyday tasks, and we can focus on all the important things in life that don't go on autopilot.
When the brain is on autopilot it doesn't stop to think if what we do is the best thing for us in the long run. It just knows that after X we usually do Y and that has served us well enough that we have done it again and again so why use precious brain energy thinking about it!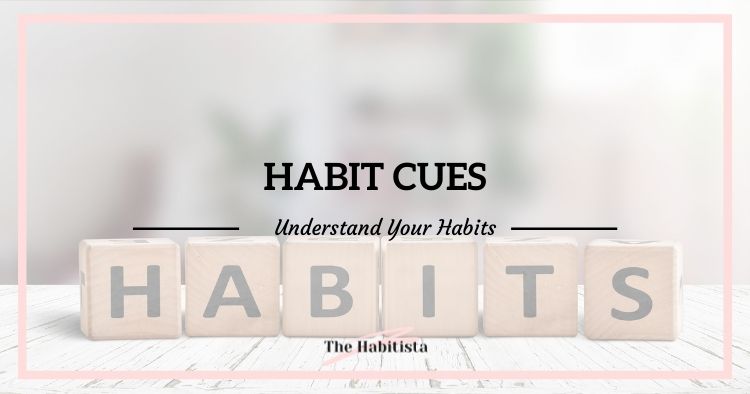 Well, what served us well enough earlier in life may not be the best thing for us today. When we were 15 and had a cupcake mid-morning because, well, it was right there on the kitchen counter, it wasn't a big problem because we were active, still growing, and it tasted good!
Move forward 20 years and the habit of eating every cupcake we can lay our hands on may no longer serve us. It may be causing issues with blood sugar levels, increased weight and to be honest, that stale cupcake in the office kitchen is not as tasty as the one from our childhood.
It could also be that we want a new habit. We have learned about the power of meditation (or yoga, or walking or exercise or….) and want to make it a habit as ingrained as brushing or teeth, or eating that cupcake that's left out in the kitchen!
And the first step of making or breaking any habit is to understand the habit cue.
Habit Loop
The habit loop, first described by Charles Duhigg in the book The Power of Habit, shows us that every habit starts with a cue. This can be a number of different things and we will look at this in detail in just a bit.
The cue starts a craving that makes us do the action or habit. The craving can be very subtle like wanting to brush or teeth so not to have bad breath, or it can feel momentous, like the craving to have ice cream in the evening watching Netflix. Either way, without the cue, there is not craving and thus, no action.
The next step in the habit loop is the reward. The reward is what makes us feel good like having a clean mouth from brushing our teeth or getting a sugar hit from the ice cream. It's this reward that makes the brain learn that this is a habit loop to remember, and it reinforces the craving that we feel when we encounter the habit cue.
Read More: Habits to Improve Your Life: The Ultimate Guide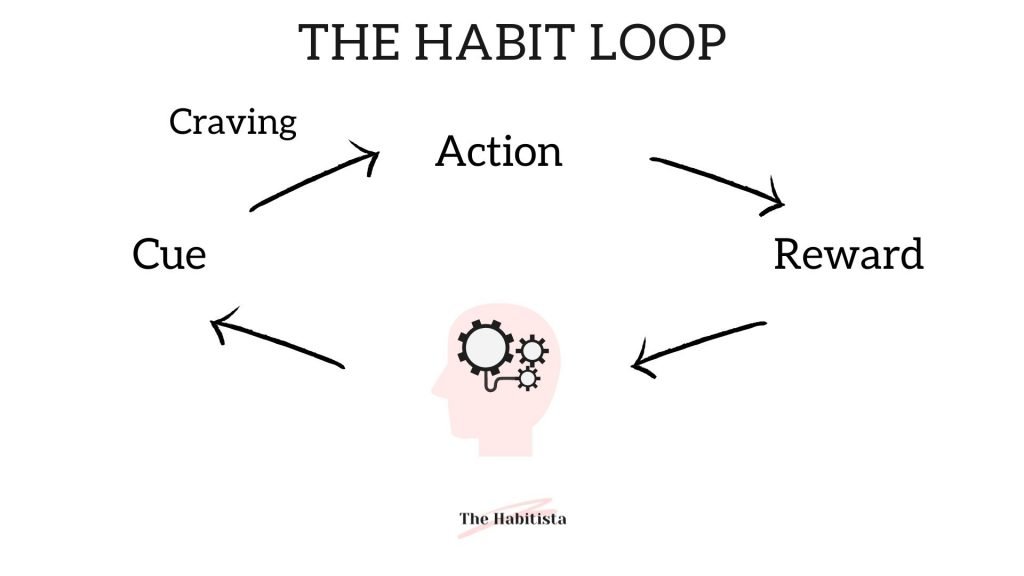 Example of the Habit Loop
I have a walking habit. I walk every day as it makes me feel better both mentally and physically. When I started this habit, I was working in an office and I walked immediately after coming home from work. It was a great cue – arriving home, changing shoes, start walking. It was clear when I was doing it, and as walking after work gave me a chance to think through the day and get my thoughts in order, in addition to moving and getting fresh air, my brain got the reward it needed to, in time, start craving a walk as soon as I hit the habit que – arriving home from the office.
Read More: Get Walking for Great Physical and Mental Health Benefits
Read More: 10 Health Benefits of a Daily Morning Walk
Habit Cues
In this example, the habit cue was arriving home. A preceding event. It didn't matter what time I arrived home, or how I was feeling on that particular day. After A then B. After arriving home, I go for a walk.
Let's go through the different kinds of habit triggers and how they can be used to make or break a habit.
What are the 5 habit cues?
Habit Cue 1: Preceding Event
As we just discussed, a common habit trigger is a preceding event. After brushing your teeth, you floss. When you get home from work, you go for a walk. After lunch you make a cup of coffee.
This is a very common and very powerful type of habit cue, and it's very effective when creating new habits. You build one habit upon another habit creating a habit stack that you can form to serve you. The beauty of this method is that you don't need to come up with different cues for different habits, instead, as long as you do the first action, the rest follows.
Take your morning routine for example, it is highly likely that this is a habit stack where one habit triggers the next.
Get out of bed. Put on kettle. Take a shower. Get dressed. Have breakfast. Brush your teeth. Floss.
Say you want to start a new exercise habit, you can set yourself up for success by putting on your exercise clothes when you get dressed. Then, you make it a habit to start exercising as soon as you have flossed, adding your exercise habit to your already existing (but slightly tweaked) habit stack.
Habit Cue Hack
There are several ways to set yourself up for success using a preceding event as a habit que. We already noted that if you put on your exercise clothes you are more likely to actually exercise. You can make it even easier for yourself by putting out your exercise clothes the night before, so you see them when wake up.
Do you have your exercise clothes on but get distracted by other things, and by the time you've flossed you have forgotten all about exercise? (And exercise clothes are basically loungewear anyway, right?!?). Remind yourself about your intention. Put a post-it on the bathroom mirror telling you to exercise before getting on with your day.
Another tip? Make the habit (workout) short and sweet so that the barrier for doing it is low. It's a lot easier to say you don't have an hour in the morning, but if it's only 10 minutes?? Make any new habit quick and easy to do! If you want to you can expand on it once it's become engrained.
Read More: How to Accomplish Your Life Goals by Improving 1%
Habit Cue 2: Time
Do you have things you do at the same time every day? Get up at 7am? Lunch at 12.30? Ice cream in front of the tv at 8pm?
Time driven cues are often more conscious than many other habit triggers, but that doesn't make them any easier to break. Have you found that you get hungry at lunchtime even if you don't look at the time? Or that you start craving ice cream at 8pm every night? The brain knows the time and once a habit is ingrained it will remind you.
To change a time driven habit, you will need to either use repetition and will power (feel hungry for half an hour until you are used to having lunch at 1pm instead of 12.30) or you can substitute the habit by having herbal tea instead of ice cream at 8pm.
Habit Cue Hack
A great way to create a new time drive habit is by putting an alarm on your phone, or use built in reminders in apps. You can get reminders to take a break from the screen you're working on, set a reminder to have a glass of water, and to remind yourself to call your mum on Sunday night.
Technology has made it easier than ever to use time driven ques so use it!
Habit Cue 3: Location
Do you always get a coffee in the same place on your way to work? By a cookie every time you pass that place with where they make them so tasty? Shop for perfume when you're in an airport?
If we want to break a habit that's location based, we can either change the location or change the habit.
Changing the location can be an easy fix, for example we might be able to get to work in a way so we don't pass that bakery or coffee shop. More often than not however we can't change the location. We have to be in the office, where there are plenty of cupcakes in the kitchen as it's always someone's birthday!!
So what do we do then?
The easiest way to break a bad habit is to change the action. You go to the kitchen and see cupcakes. A craving is triggered. What is the craving really for? Is it the sugar? The time spent chatting with co-workers? The coffee you have with the cupcake? Figure out what the reward is that you are seeking and find another way to satisfy it, that don't include eating a (let's face it, often stale or cheap) cupcake.
Read More: Use Your Personal Reward System to Create Habits that Serve You
Habit Cue Hack
There are three ways that makes it easier to add or change a habit tied to a location.
Leave yourself reminders. If you tend to eat rubbish in the car, leave yourself a note on the dashboard.
Avoid the location. Tend to overspend in a certain shop? Just don't go in. Find another place that also carries the XXX you go in there for, and avoid the trigger all together.
Make it easy to take another action. Leave your credit card at home and only bring enough cash for what you plan to buy. Have a piece of your favourite fruit in the office fridge for when it's cupcake time. Hack your habitat for success!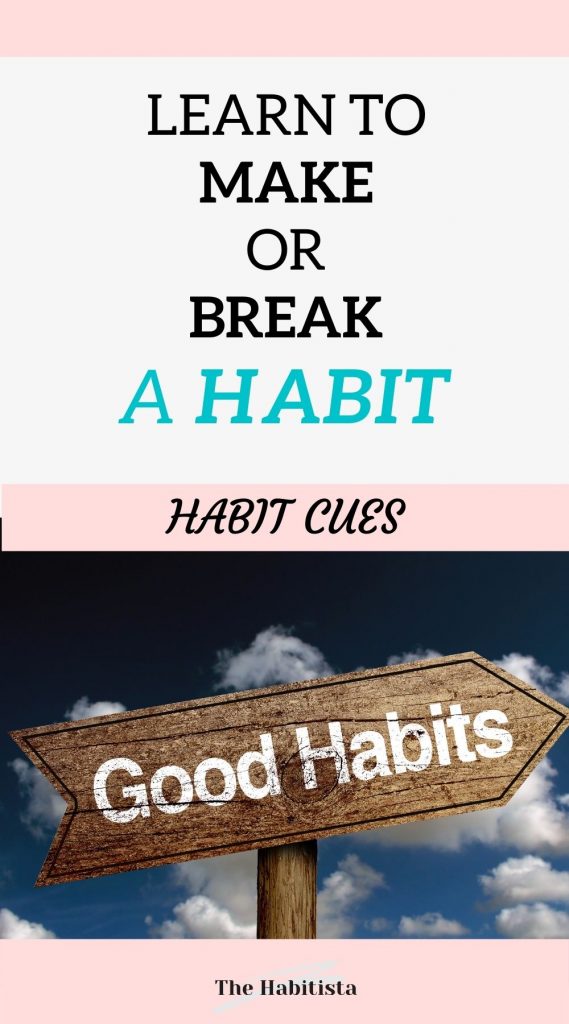 Habit Cue 4: People
Do you never get drunk except when you go out with that one friend? Do you never have biscuits except when your granny insists? Always come home with a lot more clothes if you go shopping with your sister?
People influence what we do, and the people closest to us influence us the most.
If you have a habit that you want to change that you notice is tied to one specific person, there are two things you can do. Either you stop or reduce the time you spend with that person, or you change the habit.
This may sound harsh but it's an important question to ask yourself. You may want to continue to spend time with your granny, but how much time do you want to spend with the friend you always get trunk with?
Or maybe you can't stand your granny, but you love your friend so it's the other way around! There is no right or wrong here, but changing a habit takes energy, so if you have to change your habits to continue to spend time with someone, make sure they are worth it.
Read More: How to Achieve your Goals in Life: Choose Your Friends Well
Habit Cue Hack
If you decide to keep seeing this person and change your habit, the absolutely best way of changing the cue is to have an open discussion about it with them. Tell your friend you would prefer to meet them for a walk or a coffee sometimes. Tell your granny you are watching what you eat before visiting, so she hasn't spent hours preparing biscuits before you arrive.
By being open with what you want toachieve you set expectations beforehand as well as making yourself accountable for your actions when you do see this person. That's powerful.
Habit Cue 5: Emotions
A lot of the habits that are buried deep in our unconscious are triggered by emotions.
You get upset and you:
Have a rant on social media
Call a friend
Have a drink
You get great news you:
Immediately post it on social media
Call a friend
Have a drink
You may have different actions for different emotions, like eating sweets when you feel lonely, go for a run when you are upset and pour a drink when you are wrung out after a day at work.
Understanding emotional triggers can be tricky, as many of us spend our days trying not to feel our emotions. We are not used to notice and name our emotions and then analysing what actions we take when we feel this way.
If you have a habit that you want to break or change, and it doesn't seem to fall in the previous 4 categories of:
preceding event,
time,
location, or
people,
it's highly likely that this is an emotional driven event.
Let's say that you want to cut down on your online spending and it semes to be random. Sometimes you go weeks without hitting Amazon, but then you get on a roll and the delivery people once again becomes your most frequent visitors. Have you stopped to think what you feel when you start scrolling? Are you sad? Upset? Lonely? Worried?
This takes some emotional work but by practising identifying your feelings and noticing any bad habits that are triggered by them, you can start looking at healthier way to react to the feeling. If you shop because you are lonely, would you be better off calling a friend?
When you get stressed, can you draw a bath instead of pouring a drink?
Can you watch a happy movie instead of scrolling social media when you're sad?
Habit Cue Hack
Unfortunately, there is no quick hack to knowing your emotions, but there are a lot of things you can do to start becoming more aware of them. These include
Therapy
Meditation
Mindfulness practice
Yoga
Pause and name your emotions as you go through the day
If you think you would benefit from being more aware of your emotions and the actions they trigger, spend some time here. It will give you more benefits than you can see initially.
Take Action
The fact that so much of our life is on autopilot is great, how else would we have the brain capacity for all the fun things in life?!? But sometime habit loops that we learned by happenstance when we were younger no longer serve us, and to live a better life we need to analyse them and change those that no longer serve us.
A critical step in this process is to be aware of our habit cues. What, or when, makes you do what you do? Can you change how you react in a situation to something that serves you better? Or can you create a completely new habit loop that improves your life, by identifying the trigger that will remind you to do it again, and again, and again?
Read More
Long Term Habits: How to make Habits Last a Lifetime
Do Your Habits Deplete Your Personal Resources?
Personal Resource Management: How to Use Your Personal Resources
How to Combine Habits and Values to Change Your Life for the Better