This post may contain affiliate links. You can read my affiliate policy here.
Do you make new year's resolutions every year that's falls to the wayside by mid-January? Do you intend to make each year better than the one past, but you don't really do anything about it? Why not make the decision to make 2022 the best year ever: This is an easy-to-follow month by month guide that will not overwhelm you or take up all your precious time. Instead, following this guide that will set you up for success in your intention to one year from now, be better than before.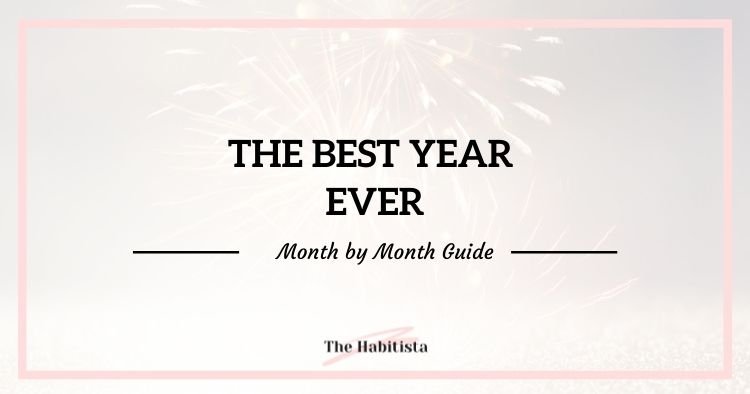 Quarter 1: Find Your Energy
To make 2022 your best year ever, dedicate the first quarter to increasing your energy, this will make it much easier to tackle the other aspects in your life later in the year.
January: Get More Sleep for the Best Year Ever
Most of us don't get enough sleep. We run around like crazy during the day so when evening comes, we feel that we have deserved some time on the sofa. And we go to bed just a bit later than we know we should.
Many of us also struggle to stay asleep. We wake up in the middle of the night worrying, tossing and turning.
The first step to getting more energy is to get a good night sleep so start exploring how you can sleep better.
Try some of the following and see what works for you:
Go to bed the same time each day.
Get up at the same time each day.
Make sure there are enough hours between when you go to bed and get up!
No screens an hour before bed.
Remove all light from your bedroom, both from outside and from gadgets.
Reduce noise in your bedroom (or use earplugs).
Only use the bedroom for sleep.
Reduce caffeine, especially late in the day.
Start a good night routine, away from screens, that let's your body know it's time to wind down for sleep.
February: Eating for Energy
What we eat and drink significantly impacts our energy levels. To make 2022 the best year ever, take a look at your eating habits to see if you have any significant energy drains in your diet.
According to the NHS, 'The best way to eat to keep your energy levels is to follow a healthy, balanced diet'.
This includes:
Eat at least 5 portions of different fruits and vegetables each day.
Choosing wholegrain.
Eat beans, pulses, eggs, meat, or other protein
Eat 2 portions of fish each week (one oily).
Drink enough water.
Reduce alcohol.
Reduce sugar and short carbs.
Read More: What is Healthy Eating? 4 Foods that are Healthy to Eat and 5 to Limit
March: Rest More for the Best Year Ever
One reason we don't have energy is because we try to be efficient all the time. At work, at home, and in between we try to fit in all that self-care we're supposed to do.
Always running around doing things trying to be efficient doesn't make us effective. It makes us tired. It's time to stop. Take a breath. Take a break.
Practise the art of the paus.
Find small pockets of time where you do absolutely nothing. It doesn't have to be as big as taking a nap in the middle of the day (but if you can and want to, go for it!).
Look out the window for a few minutes.
Sit down with your cup of tea without doing anything else at the same time.
If you find it difficult to stop, to take a break, you can try to do it in a more structured way. Download a meditation app and commit to meditating at a certain time a day or try a mindful yoga practice. You can try breathing exercises or start a mindfulness practice.
The important thing is that you allow yourself to stop. To pause. To let your mind and body take a break for a few minutes so you can get back to your day energised and with a clear head.
Quarter 2: Physical Health
If you are in the northern hemisphere the days will become lighter and warmer as we come into the second quarter, and this makes it the perfect time to focus on our physical health.
April: Get Moving Outside
Make this the best year so far by getting moving outside, every day. A simple 20-minute walk ever day will:
Lower Risk of Heart Disease, Stroke, and Cancer
Help stabilise blood sugar
Boost immune function
Help manage weight
Strengthen joints and muscles
And give you multiple mental health benefits
You may prefer other ways of moving outside and that's great! Try running, outdoor swimming, climbing, kayaking or whatever comes to mind – the important thing is to start a habit of moving outside every day and you will soon see the benefits!
Read More: 10 Health Benefits of a Daily Morning Walk
Read More: Get Walking for Great Physical and Mental Health Benefits
May: Schedule All Your Check-Ups.
We can meditate and walk to our hearts desire but if there is something truly wrong with us, unfortunately a daily yoga habit usually can't fix it. So let's find out shall we!
This month, make a list of all the check-ups, screenings, and vaccination appointments you know you should be doing but, well, you haven't. No need to beat yourself up about it, just make May the month when you get it all on the books.
Get a check-up at the dentist.
Have a general check-up with your GP.
Make sure your vaccinations are up to date.
Schedule any health screenings that are due (postponed your smear test anyone!?!)
If there are any health concerns, make sure that you address them. And then make a reminder to yourself in your calendar when your check-up is due next time!
Read More: 100 Simple Ways to Improve Your Health With 1%
June: Improve Your Strength for the Best (Life) Year Ever
You have been moving more for the past couple of months, and you have had our health check-up making sure that yo uare healthy enough, so now it's time to start adding some strength training to your routine.
Strength training isn't just to build muscle, which is great, but it's also necessary to avoid losing muscle as we get older. This means that everyone needs some strength training in their life. And it will give you great all-around benefits, including:
Let you perform more movements and activities without getting tired
Help you maintain your bodyweight
Boost your mood and energy levels
Promote healthy sleep
Build strong, healthier muscles and bones
Reduce your likelihood for injuries
This month, find a way to add some resistance training in your life. You can join a gym or get a personal trainer, you can find a beginners YouTube video, but if you really don't want to add a new thing to your routine, try taking a backpack with you on your daily walks and increase the weight you carry over time.
Read More: Cardio vs HIIT vs Weight Training: What is Best for You?
Read More: How to Improve Your Physical Health and Wellness with the 3 M's
Quarter 3: Mental Health
By sleeping better, resting more and moving better, you have hopefully already seen improvement to your mental health by this time, but there are more things that can be done to really promote good mental health.
However, good habits will only take you so far. If you are struggling with mental health issues and did not schedule a mental health check-up in May – do so now. Make sure you get the help you need and deserve, and keep at it until the help helped.
July: Cut Out Screen Time for the Best Year Ever
It's time to make time. Have you struggled with finding time for all your new habits? Do you keep reaching for your phone when you take your "pause"? This month, try a radical screen detox and see how it makes you feel.
I'm not talking about refusing to use a computer when you work, but when you're not, is that social media scrolling / Netflix binging / candy crush playing really worth it?
Try the following for a week and see how you feel:
Turn off the sound on your phone (there are settings to let certain numbers through if you need it).
Remove all social media and game apps from your phone.
If you need to check social media, do it from a computer, and only once a day.
Turn off the notifications for your emails and other apps that regularly tries to get your attention.
Remove any news apps that you regularly scroll through.
Explore other ways to wind down or take a break like reading a physical book or magazine, looking out the window, and if you want to watch an episode of something do it – but only one!!
If you want to explore this concept further before giving it a go, I suggest you read Make Time: A Friendly Approach to Focus and Energy, by Jake Knapp and John Zeratsky.
Read More: 10 Good Mental Health Habits to Start Today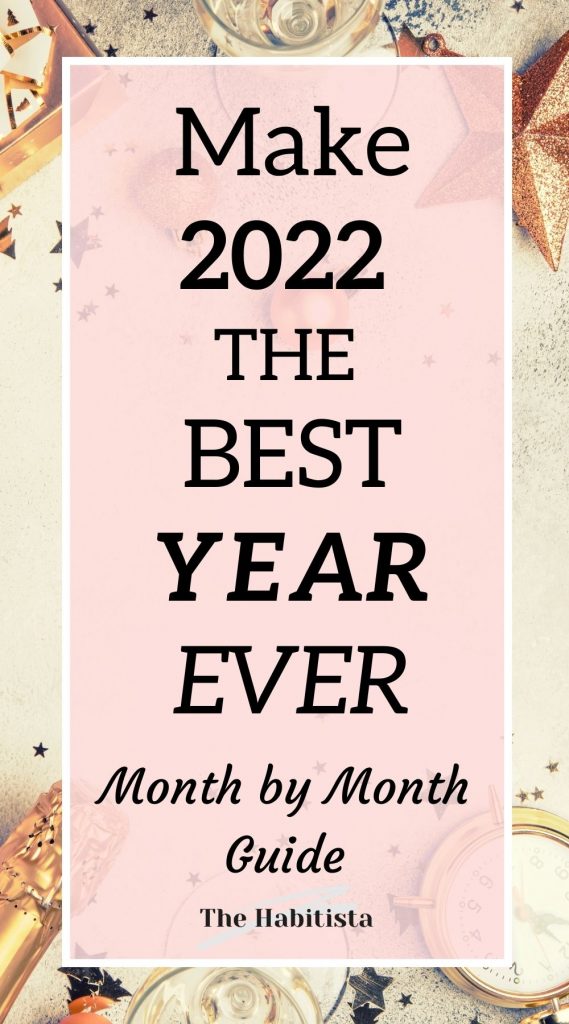 August: Relationships and Social Health
A big part of making this the best year ever is to focus on our social health. If this recent pandemic has taught us anything, it is how important our relationships and human connection is to our health.
There are 6 key areas when focusing on social health (according to the NIH):
Make Connections
Take care of yourself while caring for others
Get active together
Build healthy relationships
Shape your family's health habits
Bond with your kids
Make this the best year ever by giving your relationships and social health the focus it deserves. You have already put away your phone, now use that space to be more present with family and friends.
Set up a regular meetup with friends that's not in the pub – go for a hike together, have a potluck or meet in a coffee shop.
Consider people that you can't meet regularly but that are important to you. Can you set up a regular call date or Zoom? Is it possible to visit them?
Spend some time making sure that how you spend your time shows your priorities in terms of who is important to you.
Read More: Personal Resource Management: How to Use Your Personal Resources
Read More: 7 Inner Work Exercises: 1 Week to a Better Life
September: Challenge a Limiting Belief
We all have limiting beliefs. Something that we have always believed about ourselves that might not necessary be true, and that is probably holding us back from us living our best life.
'I'm rubbish….
…. at learning new languages
…. with money
… at keeping in touch with friends
Consider your limiting beliefs. If you find it difficult, ask someone who knows you well, it's very likely that this is crystal clear to them!
Now consider if this belief is true, has to be true in the future, and if it serves you in creating your best year ever.
You may have been bad at keeping in touch, but is that setting you up for success? Do you have to be bad at it moving forward?
And what about money? Just because you have 4k in credit card debt, does that mean that you will never have any money ever? Or could you… well… change?
Spend this month challenging a limiting belief and set yourself up for success in an area that's previously been holding you back!
Read More: 4 Steps to Release "Limiting Beliefs" Learned From Childhood
Read More: Making a List of Personal Values Will Help Guide Your Choices
Quarter 4: Healthy Finances are Critical to Make the Best Year Ever
We have a lot of different reactions when we think about our finances, but the truth is, that having healthy finances is a cornerstone for a great life. This does not mean you need to be rich, or even well off. It means that you should understand your money, what it's doing, and be able to think of your money with a sense of calm.
October: How Much Money do You Have?
Do you know how much money you have in total? Do you owe more than you own? And where is it?
The challenge for this month is to find out what you own, what you owe, and where it all is. You don't need to do anything about it; we just want to know the starting point. Do a financial health check-up if you will.
Start with making a list to include:
Assets (what you have)
All bank accounts
Any ISAs, LISAs (if you are in the UK)
Your pension pots. If you are in the UK or the US they may be spread out at different pension or 401K providers if you have worked for different companies.
Any other investments you have (stocks, funds, crypto etc.)
The value of your home (if you own it).
The value of any other property you own.
If you own anything else of significant value you can include that too, but only include it if you could really sell it for that value.
Debt (what you owe)
Credit card debt
Short term loans
Car loans
Mortgage
Any other money you owe
Now, add it all up and see if you own more than you owe, or if it's the other way around. This is your net worth.
Read More: Is Personal Debt Good or Bad? – Learn what Debt to Pay Off Imediately
November: Consider and Reconcile
Now you know what you have. The next step is to consider what you want to do to set you up for financial success.
First: Consider what you earn and what you spend and make a budget, understanding if your spending is in line with your values.
Read More: Money Smart Budget: 7 Steps to Easy Budgeting
Second: Make things easier for yourself by reconciling your accounts.
Do you have several pension pots? You can move them all into one place so you can easier see what you have.
Consider reconciling your ISAs, close any old bank accounts you are not using and if you have investments, try not to have them spread over several different platforms.
Third, consider your savings rate and if it tallies with your goals in life. Do you want money for retirement, a house, your kids' college? Are you on track for that?
Read More: Long Term Financial Goals: Step-by-Step Guide to Success
Read More: How Much Should You have Saved for Retirement at Your Age?
December: Automate, Automate, Automate
The final challenge to get your finances in order is to automate everything, leaving you free to live your best life, knowing that your money is doing what it should!
Set up direct debits to your savings or investment accounts, making sure you are paying yourself first.
Make sure you are setting off enough money for your pension via your workplace pension or other pension savings.
Automate all bills (including paying your credit card in full every month) to make sure you never miss a payment!
Not sure about the power of automation? Read David Bach's book 'The Automatic Millionaire: A Powerful One-Step Plan to Live and Finish Rich' and I promise you will change your mind!
Make 2022 the Best Year Ever
You got through it! You have created better habits to increase your energy, your physical and mental health, and you have set yourself up for financial success, all in one year!
And do you know the best thing? Now that you have all of these new habits and routines in place, you are in the perfect position to make 2023 even better – so let's go on to make 2023 the best year ever!
Read More
Habits to Improve Your Life: The Ultimate Guide
Your Health is a Priority: A Complete Guide to a Healthy Life
How to Accomplish Your Life Goals by Improving 1%
Want to Have More Money? 100 Easy Ways to Improve Your Finances
Want to say thank you?