This post may contain affiliate links. You can read my affiliate policy here.
Are you struggling with your money? Does achieving your long term financial goals feel impossible? You have come to the right place! This detailed guide will take you through the step-by-step process of reaching financial success, achieving your long term financial goals.
The basics are simple: when we align our money habits with our goals and values, we achieve our long term financial goals. And we do so without worry or deprivation. Having control over our finances is empowering and is a critical step in living life to its fullest.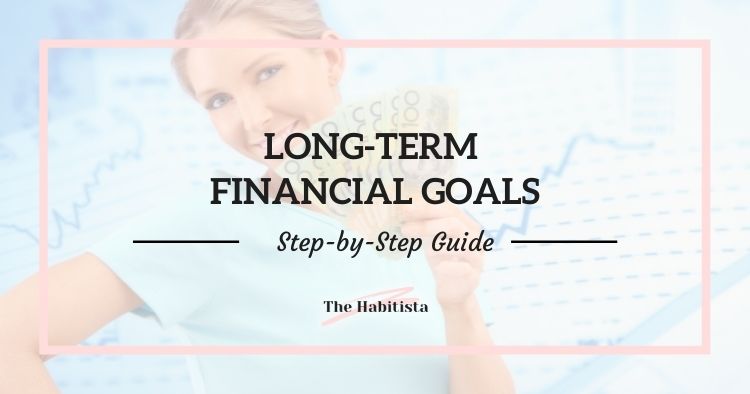 Learning About Your Long Term Financial Goals
Before we set out to achieve our financial goals, we need to figure out what they are! Trying to reach an arbitrary goal, like saving £10 000, will be very difficult unless you know why you are saving them.
Deciding to limit your expenses can easily feel like deprivation, unless the reason for why you are doing it is so important to you, that the choice is easy.
Deciding to save a £10 000 emergency fund so that you never again need to worry about paying rent if you are laid off, or furloughed, can be a powerful reason. For some. For others, taking three months off to travel may be the dream that fuels them.
In the post Create Habits to Improve Your Life: The Ultimate Guide we did an exercise to identify our long term goals by making a concrete plan of where we wanted to be in 10 years. That exercise would work equally well here. However, variety is the spice of life so let's try something different:
Identifying Your Core Values
By articulating and defining our core values we can use them as a guide to create the life we truly want.
Core Values Exercise
Write down everything you value in life. Family, health, travel, respect… don't limit yourself or think too much. This is free brainstorming, and no one will judge you.
When you have a good list, really take a look at it and consider what the words mean to you. And which are the most important. The aim is not to remove anything as unimportant, but to highlight what is the most important to you.
Aim for a list of 6-12 true core values.
As you have a list of core values you feel reflects your values it's time to formulate the long-term goals that will take your life closer in line with those values. What is stopping you from living completely in line with those values?
Read More: List your Personal Core Values and Beliefs to Become Confident in Your Choices
Read More: Find Your Life Purpose – 5 Step Guide to an Intentional Life
Aligning Your Long-Term Financial Goals with Your Core Values
Now, take a look at your core values and consider the role they play in your life. Considering my core values below, I can see that for me, a critical component for living in accordance with my core values is my job. My work does a lot for my core values. It pays for it to start with! I enjoy my job and the opportunity for growth and experiences that it provides.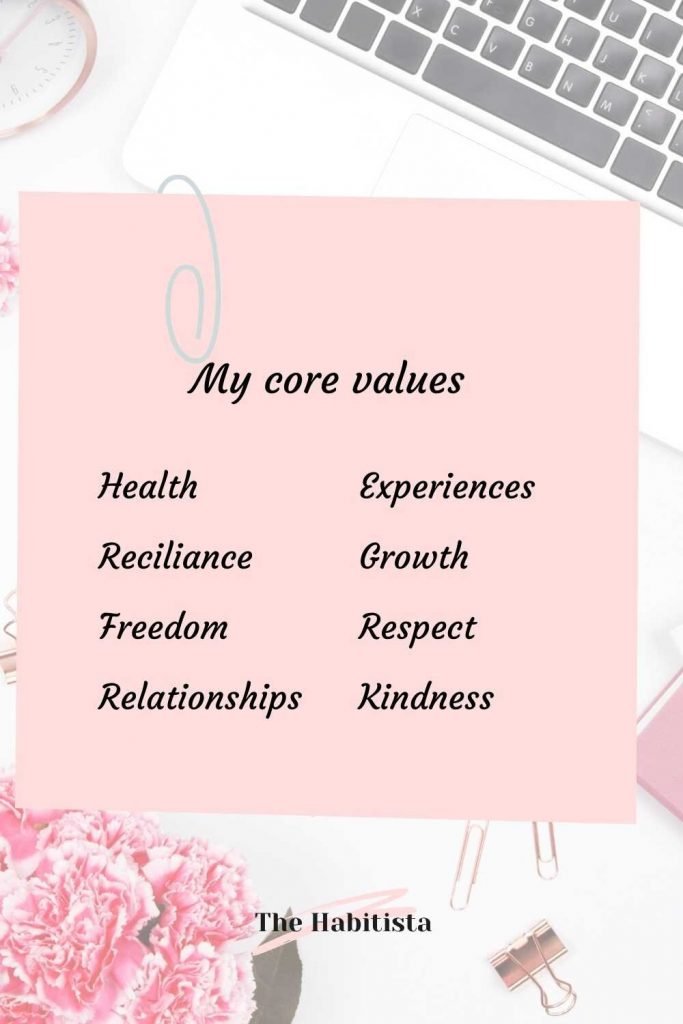 But my job is also working against some of my core values. Being middle management, I don't have full control over company decisions. I do my best to treat my staff and others with respect and kindness. To give room for growth. But it's not always up to me.
What Are Your Financial Goals?
Looking at my situation, the financial component of what I need to live a life according to my values becomes clear to me:
I want a life where I'm not dependent on my current level of income.
A life where I can leave my job if the company direction strays to far from my core values.
Where I can retire when it's right for me, not being trapped in a job that no longer serves me, just to pay the bills.
Your long term goals may look very different. It may be to move to the countryside for a slower pace of life while working remotely.
Or to be able to take extended time off for travel.
To start your own business without too much financial stress.
As you become clear on your direction, your overarching goal, you can start breaking it down into actual goals.
These are examples of long term financial goals that I have:
Have an emergency fund allowing me to take a break from work if I want or need to.
Keep my structural expenses low enough that I don't have to keep my current level of income to sustain it.
Focus on retirement savings to, long term, reach the point where working becomes optional.
What is your list?
Planning for Retirement
For most of us, retirement planning needs to be a part of our long-term financial goals. Even if you live in a country with a state pension, you need to feel confident that you are happy to work until you qualify for it. And that the state pension will support the life you want to live.
If we don't take state pension or social security into account, and I recommend you don't, unless you feel very sure it will still be around in it's current form when you retire. Then, we need to fund our own retirement.
We do this with the money we have in our retirement accounts and other savings. As well as any other investment such as property.
As a general rule, we need 25 times our expenses in order to be able to live off our investments. This is known as the 4% rule (of thumb) as we can safely withdraw 4% of our investments every year to live off, without running out of money.
This means that if you want to live off £40 000 per year, you need to have one million pounds invested. Sounds a lot? It doesn't have to be if you save over time.
Read More: How Much Should You have Saved for Retirement at Your Age?
Savings-Rate and Retirement
How long it will take you to save up for retirement depends on how much you save. If you save 5% of your salary it will take you 66 years. If you save 20% it will take you 37 years.
Consider your long-term goals. When do you want to be able to retire? At 50? 60? 70? How much should you be saving to make that happen?
If you already have some money saved, it may be easier to look at how much more money you need to save.
My long-term financial goal is for work to become optional. I have some money saved already but I will need a lot more to become financially independent. To do that I have structured my life, so I have a 65% (!) savings rate.
What savings rate would you need to reach your goals?
Read More: Save a Lot of Money: 14 Easily Replicable Steps to Save 65% of Your Pay
Understand Your Current Financial Situation
Before we do any changes, we need to understand our current financial situation. This can be scary but there is no way around it. We need to know where we are to know what to change. How to get to where we want to be.
There are two ways we can do that:
The Easy Way
There are 4 things you need to know to have a good understanding of your financial situation:
1. Your Income
Find out how much you earn every month. If you are a salaried worker this may be as easy as looking at your payslip or your bank statement. If your income varies, go back a few months, and find a good average.
2. Your Savings Rate
How much are you saving on a monthly basis? This includes anything that goes into your retirement account.
3. Your Big Expenses
The biggest expenses for most people are:
Find out how much you pay for each.
You can now calculate how much of your money goes to "other expenses". Just look at your big expenses and your savings and remove that from your monthly income.
4. Your Savings / Debts
Big picture – where are you right now? Do you have savings or assets, like a rental property?
Do you have consumer debt, student loans or a mortgage?
Take the value of all your assets and reduce it with the value of your debt. This is your net worth.
Now compare that with what you need to achieve your long-term financial goals. Are you on the right track?
Read More: Is Personal Debt Good or Bad? – Learn what Debt to Pay Off Imediately
The Thorough Way
The easy way will give you a very good understanding of the big picture, but if you want to fundamentally change your money habits, a more thorough review of your finances is a great place to start.
Track Your Expenses
Bring out your statements and dig in! Make a spreadsheet and track every penny you spent in the past 3 months, 6 months, or a year.
How much went to housing?
Car payments?
Take-aways?
Random Amazon shopping?
Get a really clear picture of your spending. Then take a look at your core values and long-term financial goals. Does your spending reflect them?
To really get a sense of what you are trading for your spending, consider how much you have to work to pay for it. Some things are worth having to work a full week to pay for. Some are not. What is worth it to you?
Read More: Value-Based Spending: How to Feel Calm About Your Money
Approaching Your Biggest Expenses
The best way to set yourself up for long term financial success is to keep your structural expenses low, or at least reasonable.
Housing
We are trained to think in terms of how much house we can afford. That's the wrong question. The right question is how much house do you need?
A bigger house comes with higher rent or mortgage. It will also cost a lot more to maintain. To heat up. To furnish.
Get the house you need. No more, no less. And if you can get it for a good price, the easier the rest will be!
Transport
What is transport costing you? Do you have car payments? A long commute?
Transport is often a cost on time, money, and health, and minimising your commute and finding healthy ways to move around can have a huge impact on your life.
Consider your long-term financial goals and ask yourself some hard questions:
Can you move closer to work?
Work closer to home?
Can you cycle more?
How many cars do you actually need?
And does it need to be a luxury car?
Read More: 17 Simple Hacks to be Healthy on a Budget
Food
By making mindful choices about food we can significantly impact our food bill! Are we eating out or having a take-away because we thoroughly enjoy it? Or just out of habit?
Can we get better at cooking at home?
Look at your long-term goals and core values. What role does food play in them? Can you change the way you approach food so that they align better?
Relationships is one of my core values and sharing meals with friends and family is a big part of that for me. Both in restaurants and at home.
Getting take-aways every night, however, is not.
Maybe your resturant habits are exactly as you like them, but you cantake a look at your shopping habits and see if you can lower your costs by reducing food waste?
Read More: How to Learn to Cook at Home: 4 Simple Habits you Need to Succeed
Moving the Needle to Reach Your Long Term Financial Goals
If you get the "big three" right, if you align your housing, transport and food with your values and long-term financial goals you create space for whatever else you want in life. You can indulge in some everyday luxury knowing that your financial pillars are supporting your goals.
If you compare my spending with the average person in the UK you will see that by keeping my structural expenses low I create a lot of space.
I choose to invest that money to reach my long-term financial goal of work becoming optional.
What would you do with that space in your budget?
Read More: Reduce Fixed Costs and Afford some Indulgent Everyday Luxury
Read More: How to Save More Money Each Year Without Spending Less
Implement Value-Based Spending
Having our structural expenses supporting our long-term goals is a key step, but to be fully in control of our finances we also need to be mindful about our other spending.
Take a look at the exercise you did earlier, looking at your spending. Is your spending in line with your values and goals?
This will take a bit of practise to implement but I strongly suggest you put in the effort. Every time you are about to purchase something, think:
Is this thing I'm about to spend money on worth it – to me?
Look at your values and long-term financial goals.
Consider how many hours or days you would have to work to pay for it.
This is not about being cheap, or even frugal or minimalistic. It's about mindfulness. To know the true cost of things.
Think about it, if you know that what you buy is worth it to you, you will never have byers remorse again! You will never be surprised at the end of the month when the money is gone, because you know exactly where it went.
It went to something that was truly worth it. To you.
Implementing a new habit like this will take some practice, but if you stick with it, it can truly change your life.
Money Management to Achieve Your Long Term Financial Goals
Ok, I finally have got some money left over at the end of the month! I have paid off my high interest debt and created some space in my finances. What's next?
This, off course, depends on your goals.
Let's take my goals as an example:
Have an emergency fund allowing me to take a break from work if I want or need to.
Keep my structural expenses low enough that I don't have to keep my current level of income to sustain it.
Focus on retirement savings to, long term, reach the point where working becomes optional.
Long Term Financial Goals: Emergency Fund
You need some easily accessible money that you keep in a normal savings account. The recommendation is usually enough money to cover your expenses for 3-6 months.
You May Need More if You
have variable or seasonal income.
have a high risk of large, sudden expenses (like depending on a very old car to get to work, or live in a house with a boiler about to blow!).
You May Need Less if You:
have other assets you can tap into over the course of days or weeks (your home doesn't count as you can't sell it quickly!)
have access to low cost credit that you can access immediately while you access your other assets.
Read More: I Won't Money: How To Be Able to Say No to Your Employer
Long Term Financial Goals: Dedicated Savings
For any financial goals that you expect to reach within the next few years, you may want to keep the money in a savings account or very low risk investments.
Are you going traveling?
Buying a house?
Taking a career break?
Open a dedicated savings account, maybe in a savings ISA if you live in the UK, and see yourself getting closer and closer to your goal!
Long Term Financial Goals: Investing
Retirement savings and other long-term savings should not be in a savings account but should be invested. This is because the interest on a savings account is very low and taking inflation into account you would actually lose money over many years!
Instead you need to invest your long-term savings, to make sure your money works for you. Some people prefer real estate, or other more tangible investments. Personally, I prefer low cost index funds as it require less work and know-how.
Any money in your retirement account, and any other long term savings you have should be invested in a low cost index fund. The stock market has, on average, increased with 10 % per year.
And as long as you don't have to sell, temporary ups and downs are unlikely to change that.
Read More: Easy Investing for Beginners: How to Empower Yourself Financially
Systemise Your Money Management
Now automate, automate, automate!
Set up direct debits and auto investments. Make sure your money is doing what it's supposed to without you having to do one single thing!
This way you can feel completely calm about your finances. Your life is set up to automatically work towards your long-term financial goals and you can focus on living your best life – in accordance with your values and goals.
Review Your Finances
Once you have done the upfront work to align your finances with your goals, we can set the automations and then forget about it. Almost.
We do need to keep a small eye on it to make sure we stay on track. That we don't go back into old money habits.
Regular Review
You can do as much or as little as you want to! The only really important thing is that you regularly log into your account to see if anything unusual is happening – anything that wasn't part of the plan.
That's it!
As long as all your bills, savings and investment are automated, the money left in your account is what you have to spend. Use a banking app on your phone and open that instead of Instagram every now and then.
If you have an interest and really want to optimise your finances, you can off course do so. Personally, I keep a spreadsheet with all my expenses so I can see trends over time and continually evaluate which costs are worth it to me.
But I'm a personal finance nerd!
For me, putting things into a spreadsheet is a good time to reconnect with my long-term financial goals and confirm that I'm still making progress. If you want that check-in but spreadsheets don't do it for you, find another way of checking in.
Have a monthly "money date" with your partner.
Have an accountability buddy that you phone once a week and talk about money.
Set a reminder quarterly in your calendar to check in with your goals.
And if needed, get a financial coach.
Big Life Changes and Long Term Financial Goals
The only time it's truly important to evaluate your "set-and-forget" plan is when you have a big life change. It could be something positive as a new job, promotion, pay rise, moving in with your partner, or having your first kid.
Or it could be a job loss, furlough, divorce, or illness.
Either way you will need to reassess both your long-term goals and your financial situation.
Have your core values changed? Your long term goals?
Do you need to change your spending or saving plan?
Update your direct debits?
Read More: When Your Life Changes – Update Your Budget in 3 Easy Steps
Review Your Long Term Financial Goals
It's ok, good even, to change. To evolve and grow. And for your plans and goals to change with you. But it needs to be done mindfully.
Don't let your goals fall to the wayside because life happened. Make a conscious decision about your priorities. This way you will not worry about money, because your money will do exactly what you want it to do.
You will create a future you can't wait to live into.
That excites you.
What is in your future?
Are you ready to start living into your new future today?
Read More
What is Soft Retirement and When Can I Take It?
Financial Independence for Women: 7 Steps to Financial Empowerment
How to be Successful with Money in 5 Easy Steps
37 Women and Money Statistics You Need to Know
15 Financial Success Quotes for a Rich Life
Book Tip
The Simple Path to Wealth by JL Collins is a must read for anyone who wants to build wealth, which should be all of us as wealth is a requirement for things we all want, like one day being able to retire.