This post may contain affiliate links. You can read my affiliate policy here.
We all know that statistics about women and money can be a depressing read but it may be worse than we think. Did you know that a woman needs to work 42 days more in a year to earn the same as a man? Or that the UK government doesn't even publish statistics of how many women are high earners? These are 37 Women and Money Statistics that you need to know today.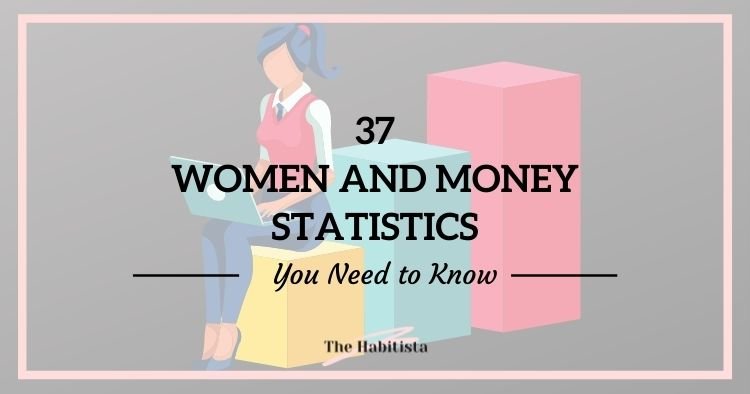 Providing a full picture of women's finances is difficult. The data available is limited, not always comparable, and sometimes open to interpretation. Here, I have focused on statistics for women and money in the UK and the US, trying to paint a fair picture of the current state of affairs.
Women and Money Statistics: Work and Income
The Gender Pay Gap
UK
The average annual full-time salary for UK women in 2020 was £28 000 compared to £34 000 for men.
In the UK the gender pay gap for full time employees in April 2020 was 7.4%, down from 9% in 2019. If we include part time employees, this goes up to 15.5% in 2020 compared to 17.4% in 2019. These numbers are encouraging but may be skewed as they were collected in the first part of the pandemic.
The gender pay gap is almost non-existent in under 40-s but increases to over 10% in older age groups.
The pay gap is much more significant for high earners, especially at director level and above, than for low earners.
US
In the US, the median is tracked rather than average salaries, the median is slightly lower than the average because of some very high earners pulling up the average. The median income for US women in 2019 was $43 000 (£31 000) compared to $52 000 (£37 000) for men.
In the US, the gender pay gap was 16% in 2020, very similar to the UK numbers. This means that women have to work 42 extra days to earn what men did that year.
In the US the pay gap for younger people is higher than in the UK, with women earning 7% less than men.
Women have to work 42 extra days to earn what men do in a year.
High and Low Earners
In the 2017-2018 UK tax year 42% of income taxpayers were women, suggesting that more men than women were a part of the workforce.
In the US, the number of women in the workforce is currently at a 33-year low, due to more women taking on caretaking and home-schooling roles during the pandemic. During the pandemic women spent 6.1 hours per day on childcare and home schooling compared to the 4.7 hours men spent.
In the UK, 13% of those paying income tax were higher rate tax payers and 1.5% were additional rate tax payers, interestingly however, the UK data published by the government does not show how many high earners in the UK are women.
In the US, the gender gap when comparing salaries for men and women with the same job and qualifications is 2% – women earn 98 cents on the dollar. As we have seen however, the overall pay gap between men and women is much higher, showing that there are significantly more highly paid men than women.
We can further see the discrepancy of earnings when looking at the highest 1% of earners in the US. The minimum household income needed to be counted into this exclusive group is $845 000 (£615 000). 99% of the 1% households are different sex married couples. 85% of the 1% households do not need the woman's income to qualify for this group, and on average the woman contributes 17% to the 1% household total income, compared with 37% of the total income in the bottom 99% earning households.
The UK Government does not publish data on how many high-rate taxpayers are women.
Business Leaders
7 of the UKs top 100 companies have a female CEO (7%). The US is only doing slightly better with  41 women being CEOs at a Fortune 500 company (8.2%).
Promotions and Pay Raises
Generally, women ask for raises as often as men, however they are only successful 15% of the time, while their male counterparts are successful 20% of the time. A 5% difference may sound small but over a working life, it really adds up.
During the pandemic things changed, however. We have already seen that the women stepped out of the workforce during the pandemic. They also became less likely (12.1%) to ask for a raise. Currently, only 58% of women feel comfortable asking for a pay rise compared to 74% of men.
Women and Money Statistics: Savings and Investing
Read More: Easy Investing for Beginners: How to Empower Yourself Financially
Retirement
53% of working age women in the UK either don't know how much they are saving for retirement or haven't started saving at all, compared to 37% of men. Further, a third of women in in different sex relationships have contributed less toward retirement than their partners.
In the US, women receive 80% of the social security of men and have two thirds of the amount of savings in retirement account compared to men. Men and women tend to save a similar percentage of their earnings, thus, the difference in retirement savings is mainly due to differences in income.
Read More: How Much Should You have Saved for Retirement at Your Age?
Women and Money Statistics: Household Finances
In Europe overall, very few women in different sex marriages earn more than their husband. Some earn a lot less; many earn just slightly less or the same amount but very few earn more, showing a tendency for high earning women to chose counterparts in a similar or higher pay bracket.
60% of women have full financial control over groceries shopping and day-to-day spending in different sex relationships. However, responsibility for all other spending usually falls to the man including decisions about savings, investing, household bills, credit cards, and large one-off purchases such as holidays and cars.
Woman and Money Statistics: The Pink Tax
Products aimed at women are more expensive than those aimed at men. In the UK a razor aimed at women is often 6% more expensive, men's face creams are nearly 35% cheaper than women's and kids clothes aimed at girls are more expensive than those aimed at boys. Just looking at healthcare products, women spend £45 more a year than men.
In the US the pink tax costs women over $1 300 a year, all things considered.
Women and Money Statistics: Debt
Household debt continues to increase and in 2017 the average UK household spent more than their income for the first time. 1 in 6 individuals in the UK are over-indebted and those who are tend to be younger, female and have children.
Women, especially younger women, are a third more likely to go insolvent than their male counterpart.
61% of those getting into debt to buy everyday necessities are women.
Women in abusive relationships are especially vulnerable with 61% of victims reporting that they are in debt because of financial abuse.
(Source)
In the US, men generally hold more debt than women (21.7%), there is one significant exception however: Women hold two thirds of the country's $1.4 trillion student debt.
Women in the US are also more likely to be denied a mortgage, or pay more for it, despite a better repayment history.
Read More: Is Personal Debt Good or Bad? – Learn what Debt to Pay Off Imediately
Women and Money Statistics: Net Worth
Median wealth in the US in 2015 was $10 000 for single men and $3 000 for single women. There are many reasons for this discrepancy including women's lower lifetime pay, women's preference to save money in cash rather than investing and women's higher amount of debt.
There is very little data made available in either UK or US to show gender inequalities in net worth.
We do know that the gender equality is higher in low net worth brackets than for wealthier individuals. For example, in 2019 12% of the world's billionaires were women.
In the US 14% of the 400 wealthiest people are women.
The UK shows similar numbers, with only 1 woman among the 17 UK billionaires.
Moving Toward Financial Equality
Financial gender equality is slowly increasing, but it is fragile. The pandemic has hit women much harder than men financially and it shows how easy it is to lose ground that has been so difficult to gain. So what do we do now?
Structural Changes
Women and their male allies need to continue to fight for an equal society where women and men have the same financial rights and responsibilities. This covers everything from abolishing The Pink Tax, making parental leave equal to ensure having children impacts men and women equally financially, ensuring there are support systems for struggling single mothers other than credit card debt, and many, many more things.
Individual Contributions
While we wait for society to catch up, there is a lot we can do as individuals to promote change. As women, we need to challenge our limited beliefs and ask for raises and promotions. We need to negotiate our salaries when starting new jobs. We need to believe in our value and raise the next generation to do the same. And male allies need to support the women around them as they do.
We can all do our part in the fight for equality. And together we can do a lot.
Read More
Financial Independence for Women: 7 Steps to Financial Empowerment
Long Term Financial Goals: Step-by-Step Guide to Success
I Won't Money: How To Be Able to Say No to Your Employer
What is Soft Retirement and When Can I Take It?