This post may contain affiliate links. You can read my affiliate policy here.
Have you ever tried really hard and finally given up because you didn't feel the results matched your efforts? Are you tired of seeing other people improving seemingly overnight? In this article I will explain the concept of growth and development and the relationship between effort and results, so that you can choose where you put your efforts and therefor maximise your results moving forward.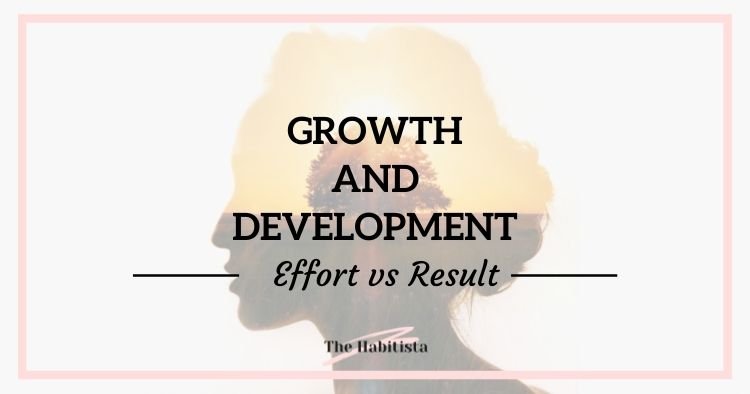 The Concept of Growth and Development
We talk about the concept of growth and development in many areas of our life. It can be the growth and development of a child, in psychology, our careers or the personal growth and development we (hopefully!) engage in on an ongoing basis.
When we try to define growth and development, what it is and how it works, we often look at these different aspects in isolation. And there are absolutely different aspects of growth and development that are worth diving deeper into, but before doing that it's important to understand the basic concept of how effort relates to results.
Growth and Development is Not Linear
We love to see the world as linear. Just look at a toddler turning on and off a light switch! I press, the light turns on. I press again, the light turns off. Instant result that is equivalent to the effort.
We take this with us as we grow up:  If I put in this amount of effort, I will get that in return:
I studied for 20 hours so I want a high grade on my exam.
If I work late every night for a year, I should get a promotion.
When I start exercising, my weight will constantly go down.
Then reality hits us and we didn't get the highest grade, the promotion we were hoping for, and the weight didn't budge after a week of exercising. So what was the point? Often this makes us feel disappointed, like the effort we put in was for nothing, so we abandon the attempt and try something else.
Maybe going low carb will make the scale budge??
Using the S-Curve to Make Sense of Growth and Development
The S-Curve model of personal disruption was originally developed by E.B. Rogers in 1962 to understand at what rate ideas and products have spread throughout cultures. Since then, however, it has been generally adopted to explain a myriad of different things like personal growth, learning, teamwork and even our careers. And when we think about it, what is growth and development if not personal disruption?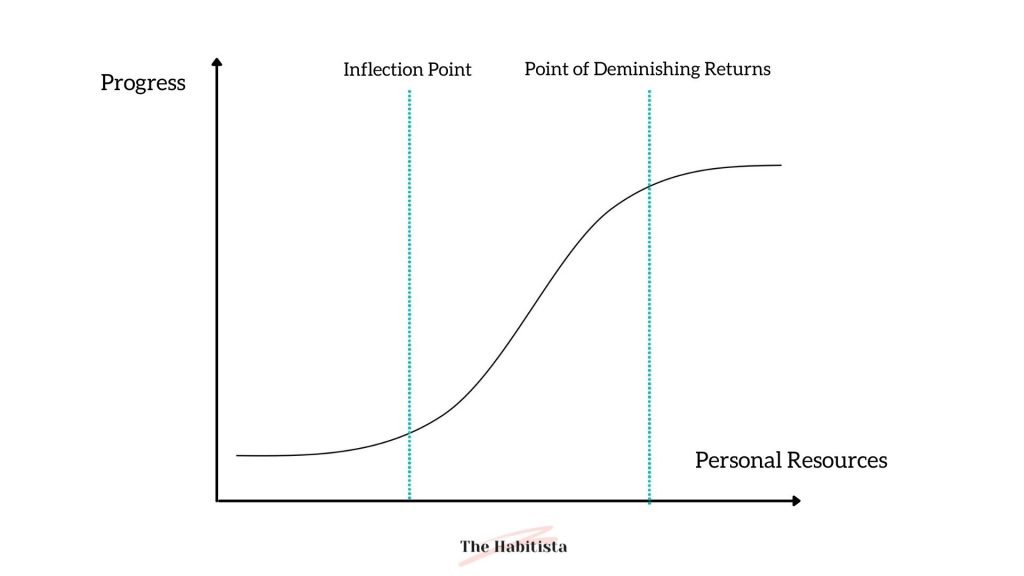 Instead of being a linear relationship, where you get out as much as you put in, growth and development is slow in the beginning. You have to put in a lot of time and effort for very little visible progress.
Inflection Point: Learning a New Language
Consider learning a new language. Initially it's slow. You need to learn new words and sounds. Understand basic grammar and probably learn a few irregular verbs. You may have to learn a completely new alphabet. It's slow going.
You have to challenge yourself. Use your time, energy, attention (and maybe also your money) towards learning. And for some time, you will feel you have nothing to show for it. But then you hit the inflection point. You know enough words and enough grammar to be able to start speaking. Now, your learning is really taking off – the more you use the language the better you become!
Read More: Use Your Personal Reward System to Create Habits that Serve You
Inflection Point: Melting Ice
In the book Atomic Habits, James Clear uses another great example for understanding the S-Curve. He suggests thinking about improvement like a melting ice cube. Imagine the ice cube is stored at a cooler temperature than its melting point (below 0 degrees Celsius or 32 degrees Fahrenheit).
When we first start warming up the ice nothing happens. The temperature will get closer to the melting point, but we can't actually see any change. Does that mean that our efforts are meaningless? Off course not. We needed to do all the work to warm it up all those degrees before we hit the melting point.
For someone looking at it from the outside however, they may only see the ice finally melting. This is the breakthrough moment, the inflection point. It's been a very long and flat bottom of the S curve before the ice suddenly starts melting and now, when you continue to add heat, you see the ice continuing to melt.
Achieving Mastery
Unfortunately however, this period of linear change don't go on forever. You will not get indefinitely better at a language, or continue to lose weight until you disappear. As you can see in the graph, you will hit a point where you no longer get out as much as you put in. You have hit the point of diminishing return.
If you want to continue to grow and develop until you completely master something, you need to be prepared to knuckle down. This is the difference between speaking a language quite fluently and to sound exactly like a native speaker. The difference between knowing more than most people about superconductors compared to being the world expert in superconductors.
Achieving Mastery: The British Cycling Team
In the article How to Accomplish Your Life Goals by Improving 1% I used the example of the 2008 Beijing Olympics British cycling team who won 7 out of 10 gold medals – something truly extraordinary as British cycling previously had only won 1 Olympic gold medal in 76 years.
The team were already really good cyclists, otherwise they would have qualified to join the team in the first place. But they didn't just want to be really good cyclists, they wanted to be the very best. Better than all other really good cyclists in the world.
To achieve this they practised cycling, yes, but they also looked for improvements in aerodynamics and bike maintenance, washed their hands frequently to avoid illness, and brought their own mattresses and pillows to hotels to make sure they had a great night sleep.
They found each and every aspect that could improve their performance, and did it, even though it required a lot of effort to improve even 1%.
This way, they achieved mastery.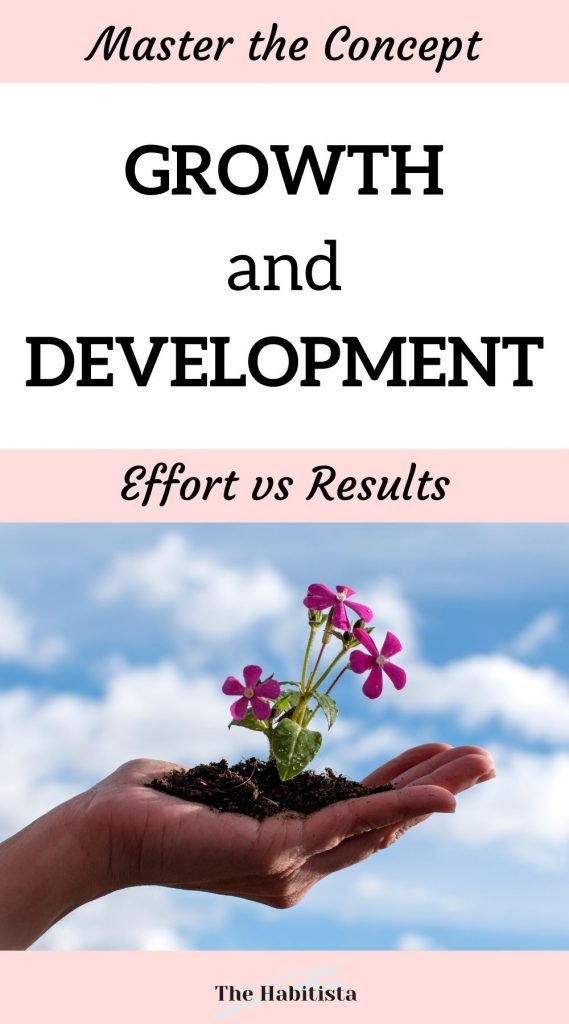 Using the Concept of the S-Curve in Growth and Development
When you are pursuing change, it will be slow initially. It will take time and effort before you see tangible results, but when you do, they can come quickly and seemingly out of nowhere. And this is usually what we see happening to others!
The person who suddenly lost a lot of weight.
The company that grew exponentially seemingly overnight.
The person who climbs the career ladder as if there's no tomorrow.
But it was not out of nowhere. Loosing weight requires eating right, move regularly and to KEEP IT UP. So does starting a business, growing your career or learning a new language.
Prioritise Your Efforts
Because of the flat start of the S-Curve, many people feel like they never get anywhere. They try one thing, when that doesn't work, they try another. And the truth is, if you don't stick with it you will never hit the point of growth.
You need to prioritise where you spend your time, energy and other personal resources to focus on achieving what is important to you.
Don't try to do it all.
Focus your resources on something that is important to you and you will be successful.
Read More: Find Your Life Purpose – 5 Step Guide to an Intentional Life
Concept of Growth and Development: Easy Wins
Putting a lot of effort into something without seeing results is difficult, even if it is for something we really want to achieve. Our brains want to be rewarded for our work, otherwise it feels our energy is best used elsewhere. So how can we convince our brains to stick with it?
How do we find the tenacity to keep warming the ice when absolutely nothing happens?
One answer is early easy wins. We need to get our brains to understand that this will work. At one point the ice will melt.
The best way to convince our brains of that is to start with meting a small bit of ice. That will give our brain a reward, showing it that it is possible to melt the ice. And if we break down the whole block of ice in smaller chunks, we can get regular small wins, we can see the progress rather than chugging away at the bottom of the S-curve for a long time before anything happens.
The problem with this method however is that overall, you will end up using more energy to melt the ice than if you melted it all at once.
Easy Wins vs. Minimal Effort
We can find a great example of easy wins vs. minimal effort in the personal finance space, where many smart people argue about in which order people should be paying off their debt.
One camp argues that it's better to start with the high interest debt first, even if it's also the biggest debt, because mathematically this will make you spend less money overall when paying off your debt.
The other camp argues that it's highly unlikely that people will keep the discipline required to pay off debt if they have to pay for years before they see any progress. They argue that it's better to pay off the smallest debt first, that way you can feel good about having one less debt and you can use that money to pay off your second smallest debt, getting another quick win to keep you going.
Read More: Is Personal Debt Good or Bad? – Learn what Debt to Pay Off Imediately
Neither camp is right, and neither is wrong. People are simply different. Some people would be horrified by the idea to pay more money to the debt companies than they absolutely had to. They would prefer to slug away at the bottom of the S curve for a long time, secure in the knowledge that this is the best way to reach the inflection point.
Other people are really motivated by seeing change. It spurs them on, make them work harder. They may spend a bit more money but at least they do it! Instead of giving up before reaching the inflection point.
Using the S-Curve Principle in Your Personal Growth and Development
There are three main takeaways that can supercharge your growth and development:
Prioritise which goals are important enough to work towards.
Decide if mastery is necessary or if good is good enough.
Understand if you are motivated by minimising the use of personal resources or if you need quick wins to reach the inflection point.
Keeping these three things in mind as you pursue growth and development in any area of your life will help you prioritise your efforts on the things that really matters to you and help you stick the course so that you can get there in a way that works for you.
What would be worth it for you?
Read More
Habits to Improve Your Life: The Ultimate Guide
Accountability to Yourself: How and Why it's Important
Goals and Systems: How to Achieve Your Wildest Dreams
Long Term Habits: How to make Habits Last a Lifetime
Use Your Personal Reward System to Create Habits that Serve You