This post may contain affiliate links. You can read my affiliate policy here.
Exercise is confusing with different experts telling us different things. 'HIIT (High Intensity Interval Training) is the only exercise you need'. Or is 'HIIT dangerous and you should focus on fat burning cardio by running or walking 10 000 steps a day'. 'No, weight training is the way to a strong and healthy body.' With all this conflicting advice, how do you know what type of training is best for you? Learn all about Cardio vs HIIT vs Weight training and how much exercise will get you the most benefits.
Luckily there is finally some clarity available, provided in the book Exercised: Why Something We Never Evolved to Do Is Healthy and Rewarding by Daniel E. Lieberman.
Lieberman is a Professor of Biological Sciences, Human Evolutionary Biology, and Chair of the Department of Human Evolutionary Biology at Harvard University. He is also the author and co-author of several books, explaining complicated science in a way that is both engaging and exciting.
Still not sold on the idea of reading a book by a Harvard Professor? Luckily you don't have to! In this post I have pulled together the key takeaways from Exercised in terms of the benefits and risks with different types of exercise that will enable you to easily decide what is best for you.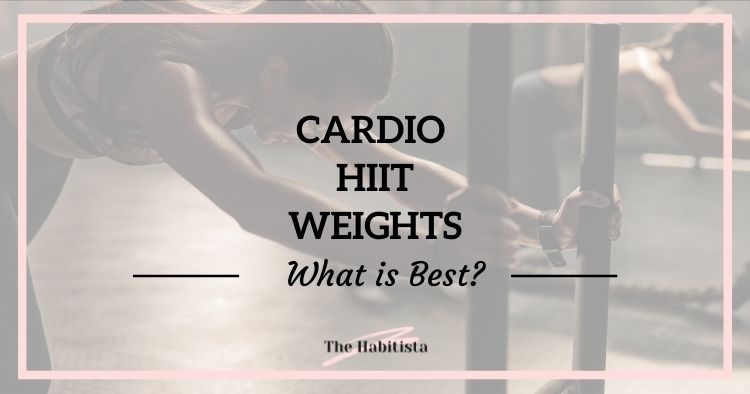 Cardio (Moderate-Intensity Aerobic Exercise)
What is Cardio?
Cardio is exercise that is fuelled by oxygen. Our muscles have mechanisms for working without oxygen, but this only provides a short burst of movement before we start needing oxygen to continue to use our muscles. If we don't get oxygen there quick enough we will soon get cramps, feal nausea and get stomach pain.
When we start moving, we will start breathing more heavily and our pulse will pick up to send more oxygen from the lungs to the muscles. We usually call it cardio when we move enough to raise our pulse to between 50% and 70% of maximum pulse. (Most people have a maximum heart rate between 150 to 200 beats per minute.)
What are Cardio Exercises?
Typical examples of Moderate-Intensity Aerobic Exercise are:
Fast Walking
Jogging
Running
Cycling
"Aerobics"
Swimming
Dancing
Benefits of Cardio
7 Benefits of Cardio to the Cardiovascular System
Heart chambers grow stronger, roomier, and more elastic leading to:

Increases volume of blood pumped out.
Increases heartrate.

Number of red blood cells increases (to carry oxygen)
The amount of plasma in the blood increases so the heart can pump blood more easily with all the new red blood cells.
Increased cardiac output stimulates expansion of blood vessels in muscles, including the heart.
Increases good cholesterol (HDL).
Lower bad cholesterol (LDL).
Lowers circulating fats (triglycerides).
Overall benefit to the Cardiovascular system of Moderate-Intensity Aerobic Exercise: Strong heart, clear and supple arteries, and low resting blood pressure.
5 Benefits of Cardio to Muscles
Increases number of mitochondria so the cells can burn more oxygen.
Promotes growth of muscle fibres.
Increase the muscles' ability to store carbohydrates and burn fat which:

Burns harmful organ fat (visceral fat).
Improves body's ability to use sugar.

Lowers inflammation
Beneficially adjust many hormone levels including:

Oestrogen.
Testosterone.
Cortisol.
Growth hormone.
3 Other Benefits of Cardio
Stronger bones (however, not from swimming)

Stimulates bone growth in younger people.
Helps bone repair themselves as we age.

In moderation it stimulates the immune system
Increase blood flow to the brain

Increases productions of substances that stimulate brain cell growth, maintenance and function.
Read More: 25 Benefits of Moving Your Body More You Need to Know
HIIT (High Intensity Interval Training)
What is HIIT?
HIIT repetition of very short sessions of maximal efforts followed by a short rest (High Intensity Aerobic Exercise). These short bursts of intense cardio get the hart rate and oxygen use up towards the upper limit – usually above 85% or 90% of maximum pulse.
These short bursts of exercise also engage the anaerobic system as this is what first gives the muscles energy before the heart rate and breathing increases sufficiently to provide enough oxygen to the muscles.
HIIT is technically intense cardio done in short bursts, usually 10 to 60 sessions, followed by a short rest. This can be any type of cardio, some popular examples being running and cycling.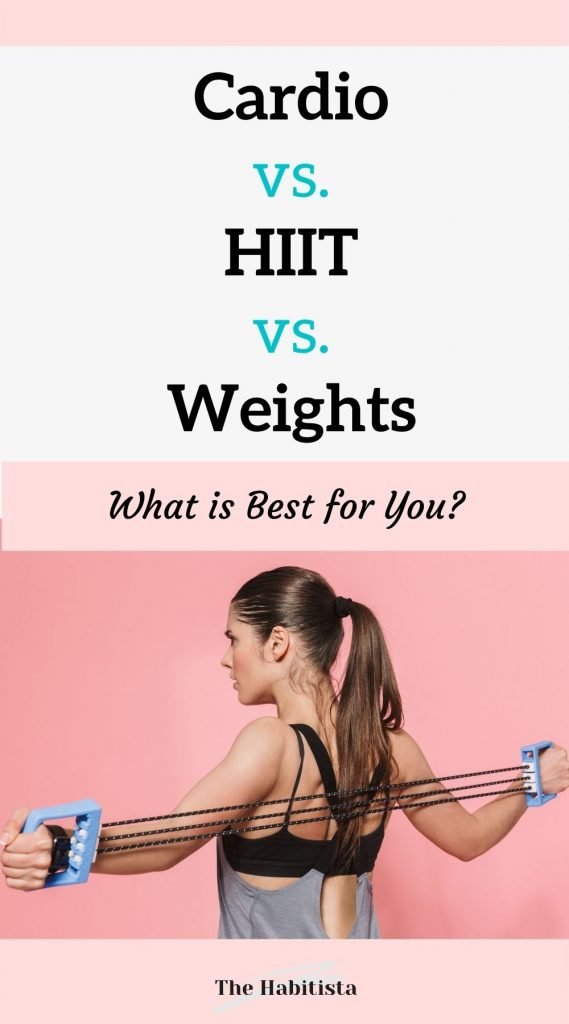 6 Benefits of HIIT
High intensity aerobic exercise stresses the cardiovascular more than cardio and is good in improving, rather than maintaining fitness.
HIIT has greater benefits than medium intensity training on a number of functions:
Significantly increases both aerobic and anaerobic fitness.
Brings down blood pressure.
Lowers harmful cholesterol levels.
Burns fat.
Improves muscle function.
Stimulates growth factors that helps protect the brain.
4 Concerns with HIIT
Unwise to do more than a few times per week.
Don't burn as many calories overall as regular cardio.
May increase risk for injury.
Doesn't deliver all diverse benefits of regular moderate aerobic activity (cardio).
HIIT vs Cardio
HIIT is a fast way to improve fitness levels and is a great complement to cardio as long as you don't have a pre-existing injury or have a high risk of injury for any reason (very unfit, previous history with injuries etc.).
If you feel that you can, add 2 HIIT sessions to your weekly routine. It doesn't need to take up any extra time if you incorporate it into cardio you're already doing.
Weight (Resistance) Training
What is Weight Training?
Weight training is using muscles against a (heavy) weight. This can happen in three different ways:
1. Concentric Contraction
Concentric contraction is when you cause tension on the muscle when it shortens, such as during a bicep curl. This is a good way of building muscles but there is a risk of injury and overuse of your joints.
2. Eccentric Contractions
Eccentric contractions is then the muscle is extending, stretching, while working against a heavy weight. Concentric and Exxentric exercises are often used together, like in the biceps curl where the muscle first contracts and then stretches out as you lift the weight up and down. This is a good way of building larger and stronger muscles, but it has increased risk of injury as the joint will be towards the end of its movement.
3. Isometric Contractions
Isometric contractions is when a muscle stays the same length even though there is a pull of a heavy weight. In this type of exercise your joints don't move, like in a plank. This is a good way to build muscle without the same risk for joint injury and general wear and tear.
5 Benefits of Weight Training
Maintaining or increasing muscle mass (muscle mass decreases as we age).
Prevents bone loss.
Increases muscle's ability to use sugar.
Enhances some metabolic function.
Improves cholesterol levels.
How Much Weight Training Is Good for You?
The main scientific consensus on weight training is to exercise all major muscle groups twice a week with several days in-between to allow for recovery.
Do 8-12 repetition of each exercise with enough weight that you want to stop at this point. Then do it again.
2-3 sets have been shown to be more effective than just one.
If you are just starting out with weight training, or if you have pre-existing injuries, use isometric exercises such as maintaining a:
Plank
Low Squat
Lounge
Wall Sit
Bicep Curl
Dead Hang
Bridge Pose
Read More: 9 Surprising Benefits of the Dead Hang
How Much Exercise is Good for You?
In summary some is good. More is better. To start seeing good benefits science is agreed that a minimum should be 150 minutes per week (30 minutes per day) but the benefits increase the more you do, as long as you don't completely exhaust yourself.
Cardio vs HIIT vs Weight Training: What is Best for You?
The most important type of exercise is cardio. Making sure that you get your heartrate up for 30 minutes a day will not only significantly reduce your risk of death, but it will give you a number of benefits to your overall health by stimulating growth and upkeep of most every part of the body.
Cardio helps muscles work better, it burns harmful fat, improves the body's ability to use sugar, lowers inflammation throughout the body and helps maintaining good hormone levels.
Most cardio (though not swimming) will help us have healthy bones. Cardio will help us fight diseases by stimulating the immune system and last (but not least) it will increase blood flow to the brain which will improve both our cognition and our mood.
Read More: 12 Exercise and Mental Health Quotes: Live a Better Life
Read More: 10 Good Mental Health Habits to Start Today
If you are new to exercise you may then want to add isometric weight training twice a week. This way you will get the benefits of weight training with minimal risk of injury.
Finally, feel free to add HIIT and other weight training as long as you can do it without risk of injury, to get the additional benefits these types of exercises can add.
The answer therefore to the quesion about Cardio vs HIIT vs Weight training is:
Exercise several hours a week, mostly cardio but also some weights, and keep it up as you age.

Professor Daniel E. Lieberman
Read More
10 Health Benefits of a Daily Morning Walk
Your Health is a Priority: A Complete Guide to a Healthy Life
Move Around More at Home: 10 Fun Ways to Get Moving Today
How to Improve Your Physical Health and Wellness with the 3 M's
The Best Way to Use Your Personal Resources for Health