This post may contain affiliate links. You can read my affiliate policy here.
Hanging from a tree branch, monkey bars or a pull up bar, is something we should all be doing regularly. It's one of the most overlooked way of movement that, if incorporated into our daily life, can give great benefits. Learn the benefits of the dead hang and how to easily incorporate it into your life.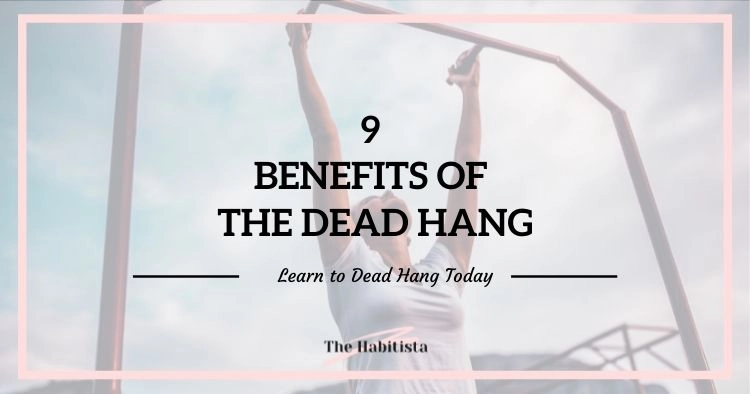 What is a Dead Hang?
A dead hang is exactly what it sounds like. It's hanging from something: A tree branch, monkey bars in the playground, a pull up bar. Hold on and let the rest of your body relax.
This is in contrast to an active hang where you engage your shoulders and arms to keep a more active pose. This activation will help you build strength and is a great complement to the dead hang.
Read More: 7 Amazing Benefits of the Active Hang
If you are not used to hanging however, start with a dead hang and once you have managed that, start playing around with the active hang. And maybe, one day, you will even start being able to bend your arm and move from an active hang to pull-ups or chin-ups – but I'm getting ahead of myself!
Read More: How do I Move More? – Get Healthy with New Movement Habits
Read More: Move Around More at Home: 10 Fun Ways to Get Moving Today
Benefits of the Dead Hang
1. Spinal Decompression
When you hang, your body weight will help gently stretching your spine. This will relieve the pressure of the spinal disks, the gel like cushions between the bones in your spine. If you have any issues with your disks this may be relieved, and nutrients can come in and help you heal.
This is great for anyone who sit a lot or have a sore back.
Read More: Spinal Decompression Therapy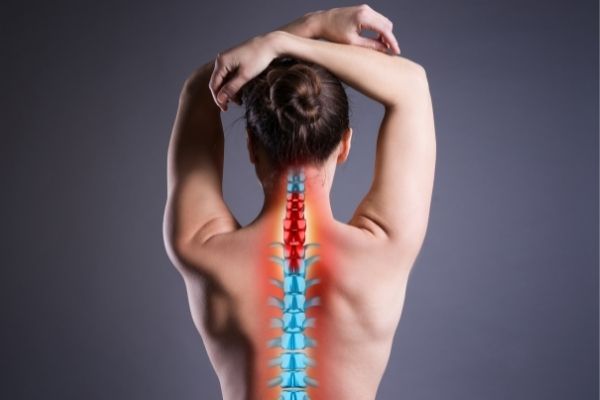 2. Forces in Different Directions
Our bodies, muscles and cells are used to having forces working on them in the same direction most of the time. We sit or stand, and gravity tries to pull us down, while we use our muscles to stand up. When we hang, we still use our muscles to counteract gravity but from the opposite direction to standing and sitting.
Exposing our bodies to these opposite forces helps the cells in our muscles, and in extension, our bodies, to be their best selves.
3. Dead Hang for Grip Strength
Having a strong grip will help you in your day to day life by making it easier to open jars, loosening screws and opening a bottle of bubbly!
Grip strength may also be a predictor of your overall health later in life with low grip strength being associated with higher rates of mortality and disability.
4. Dead Hang Benefit: Skin Strength
It's not only your muscles that needs strengthening but your skin does too. A weak spot in most people's upper body strength is their lack of strength in the skin. By using our hands in different ways, we will make the skin more resilient, more flexible, and more able to support what we want to do with our bodies!
Read More: Hanging and Hand Skin
5. Upper Body Stretch
By hanging relaxed from something you will stretch your shoulders, arms and back. This will help you feel more mobile either if you are sitting a lot or if you are sore from exercise.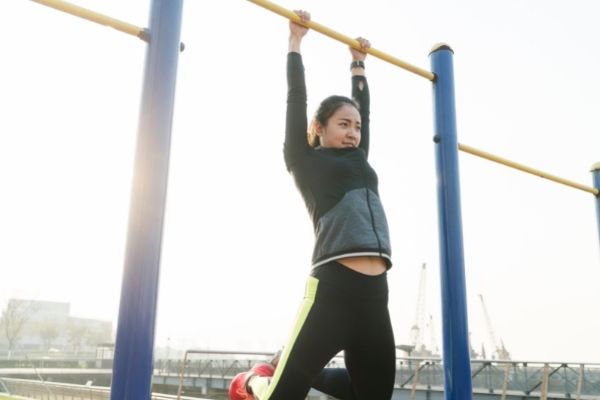 6. The Dead Hang Benefits the Shoulder Joint Range of Motion
Many of us does not use the full range of motions of our shoulder on a regular basis. Long term, this can lead to aches and pains and an actual loss of mobility. By regularly performing a dead hang we will increase our mobility in the shoulder joint.
This will benefit everyone but if you, like me, have ever had a rotator cuff injury, this will be extra helpful in increasing, and maintaining, shoulder mobility.
7. Strengthen Your Forearms with the Dead Hang Exercise
In addition to stronger hands, a dead hang will also strengthen your forearms. For many of us, forearm strength is a weak spot in our upper body strength. By increasing it, many daily activities such as lifting and opening jars (and a bottle of bubbly!) will become a lot easier.
Isn't it funny that many of the benefits of the dead hang leads to better being able to popping Champagne!
If you are already doing a lot of strength training, increasing your forearm strength may help you perform better in a number of upper body exercises.
Trying out new ways of using your body in handling various situations breaks you free from old ways of thinking and being.

Mirka Knaster
8. To Dead Hang on Bar Improves Posture
By strengthening your upper body, decompress your spine and stretch your arms, shoulders and back, you will improve your posture. This will create a positive spiral of less aches and pains and a stronger upper body as you start carrying yourself better.
And carrying yourself better might also make you feel better mentally – double win!
Read More: 10 Good Mental Health Habits to Start Today
Read More: 12 Exercise and Mental Health Quotes: Live a Better Life
9. Will Help You Survive When You Fall of the Roof Chasing a Bad Guy!
If you are not convinced about any of the health benefits of the dead hang above, just imagine this:
You are chasing a bad guy in your favourite movie or tv show, and as he jumps from one roof to another you slip! You just about manage to catch the end of the roof. Do you want to be the character who holds on until help arrives? Or do you prefer to be the disposable character who loses their grip and falls to a certain death??
I'm not trying to tell you that you will fall to your death unless you start hanging around. I just want you to consider what kind of person you want to be. And implementing something easy as hanging for a minute a day could have a significant impact on who you are – and who you become moving forward!
Get The Benefits of Daily Hanging
As with any habit you need to consider when and where you will be hanging. Let's start with where:
Do you have access to a pull-up bar at a gym or in your house to hang from?

Is there a playground or outdoor gym close by where there are some kind of bars?

Are there any tree branches along your normal routes, or close by, that you could hang from?

If there is nothing available, could you get a pull up bar that you could put up in your home. (I did! I'm a 40+ professional woman and I have a pull up bar in my home office.)
Next step is determining when you will do it:
Think about when you would have easy access to somewhere to hang. Do you walk past that tree branch on your way to or from work?

Do you pass a playground when you walk your dog?

If you have a pull up bar, when would you normally be close to it?
Decide on when to hang and what will remind you to do it. If needed, put a daily reminder on your phone at a specific time!
Read More: Habits to Improve Your Life: The Ultimate Guide
Read More: Long Term Habits: How to make Habits Last a Lifetime
What if I Can't Lift My Feet?
When I started dead hangs, I could not lift my feet from the ground. I would hang from a branch or a bar with my feet on the ground, supporting me until one day I could lift my feet up.
I also leaned on things; Fore example I would grip a post in my staircase and lean the other direction. This would help increase my hand, skin and forearm strength and practise getting forces from different directions.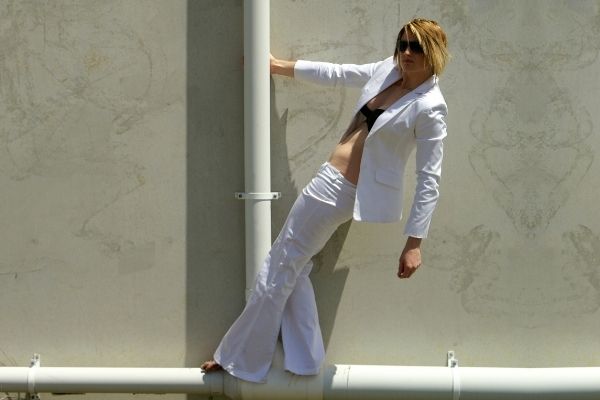 Hanging for Exercise – Everywhere
To really get the benefits of the dead hang try to hang from different things: Try pull up bar hangs. Smooth bars hangs. Hanging from thick branches. Thin monkey bars. Try a wide grip. A narrow grip. And once you have learned to hang, try swinging! Play. Try changing your grip as you hang. Maybe eventually arm walk on the monkey bars!
I hope this has inspired you to incorporate the dead hang into your daily routine. You won't be sorry.
Do you know anyone who would benefit from a healthier back and shoulders? Share this post with them and spread the joy!
Read More
Your Health is a Priority: A Complete Guide to a Healthy Life
A Beginners Gudie to Hiking in Barefoot Shoes
100 Simple Ways to Improve Your Health With 1%
10 Ways to Move the Body That Even You Can Do
Book Tip:
If you are interested in the benefits and learn how to move more, and move better, check out Move Your DNA by Katy Bowman.
For more tips, check out the Resources for Personal Development page.