This post may contain affiliate links. You can read my affiliate policy here.
Do you want to be healthier but don't know where to start? You have come to the right place! Below are 100 simple ways to improve your health and wellness that you can easily implement in your day-to-day life.
Choose one idea to implement in your life today, and as soon as you have established the new habit, come back to this list and pick another idea. You will soon start seeing great improvements to your health and wellness!
Increase NEAT (Non Exercise Activity Thermogenesis)
This is the energy we spend on everything we do that is not sleeping, eating or exercise. In other words, it's all the ways you move around that you don't consider exercise. NEAT has a great impact on our overall health, and even small increases can have a great effect over time.
1. Walk more
Walking is great for your heart health and your mental health. It helps you to lose weight, strenghten your muscles, improve your sleep and support your joints.
Read More: A Beginners Gudie to Hiking in Barefoot Shoes
2. Cycle more
Going somewhere a bit further? Cycle instead of taking the car. Cycling regularly will increase your cardiovascular fitness as well as making you stronger and more flexible, decrease stress and improve your posture.
3. Get a standing desk
Make sure you don't sit all day but get up on your feet regularly, being sedetary leads to a number of health issues – some even say that sitting is the new smoking!
4. Sit on the floor
You will need to get up and down from the floor as well as engaging your core while you sit. Try sitting on the floor to read, take a call or watch tv.
5. Stand up or walk while on the phone
You will think better and move more.
6. Hang in tree branches and bars
It's a little silly (which is a good thing!) and it's a really good way to improve your health. It will decompress and stretch out the spine as wel as improve grip strenght, stretch the upper body and can even relieve shoulder pain.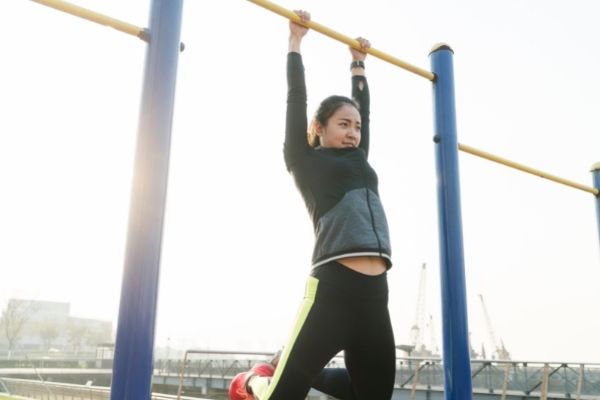 Read More: 9 Surprising Benefits of the Dead Hang
7. Take the stairs
Rather than the lift of escalator for heart health.
8. Squat when doing things on the floor
Squat instead of bending down when filling the dishwasher with salt, picking things up or doing some cleaning.
9. Use a bathroom further away
Those extra steps will really add up.
10. Clean your house often
It will make you feel better, keep you moving and reduce the likelyhood of any funny things festering.
11. Include hiking or cycling on a holiday
Or snorkelling if you prefer a beach holiday! Just make sure you take the oportunity to get moving when you are not stuck in front of your computer all day.
Read More: How do I Move More? Get Healthy with New Movement Habits
Read More: Move Around More at Home: 10 Fun Ways to Get Moving Today
Exercise More
12. Add 10 min exercise sessions throughout the day
Science shows exercise is equally beneficial even if not done all at once.
13. Schedule exercise in your calendar
It's important, make sure it's firmly booked in.
14. Increase the intensity of your exercise
Can't find more time to exercise? Try increasing the intensity (but only if it's safe!).
15. Try a new sport
Is there anything you always wanted to try? Archery? Frisbee golf? Krav Maga?
Read More: Cardio vs HIIT vs Weight Training: What is Best for You?
16. Book exercise sessions with a friend
Great way to get some quality time in and get moving at the same time.
17. Sign up for a race or charity event
If you need external pressure to get moving, sign up and tell everyone about it!
Read More: 25 Benefits of Moving Your Body More You Need to Know
Build Strength to Improve Your Health
18. Include strength training into your exercise routine
Strength training will improve your bone health, your metabolism and generally make you feel stronger.
Read More: How to Improve Your Physical Health and Wellness with the 3 M's
19. Lift heavy things
Shopping, whet washing… there are heavy things all around you that you can carry around– just be mindful so you don't hurt yourself.
20. DIY
Perfect time to lift and carry things and naturally build strength.
21. Carry things with straight arms
Your washing, shopping and that heavy book…
Read More: 10 Ways to Move the Body That Even You Can Do
22. Take the steps in the stairs two at a time
And really engage your glutes for some instant cardio and strenght exercise.
Track Your Habits
23. Use a habit tracker or app to stay accountable
Get a Free Printable Habit Tracker in the Habit Worksheet below!
Eat Healthy
24. Never go on a diet
Create healthy eating habits,that you can sustain long term, that way you will never feel restricted or deprived.
Read More: What is Healthy Eating? 4 Foods that are Healthy to Eat and 5 to Limit
25. Eat more veggies
They provide vitamins, fibre and will fill you up!
26. Eat less processed food
Avoid anything you don't understand what's in it or that you couldn't make in your own kitchen.
27. Eat beans and legumes
Don't believe the myth that these are bad foods, they are a great source of protein and fibre and should be a part of any healthy diet.
28. Eat more nuts
Nuts are a great source of nutrients and are an easy alternative to a protein (or chocolate) bar.
29. Eat probiotic food
More and more research shows the benefits of great gut health!
30. Eat eggs including the yolk
Unless you are vegan. Egg yolks are a great source of vitamins and the cholesterol will not give you a heart attack.
31. Reduce how much refined grains you eat
This will reduce inflammation and as you are already eating a lot of veggies, beans, legumes nuts, eggs and probiotic foods, it will not leave you hungry.
32. Reduce your sugar intake
But you already knew that!
33. Reduced your charred food intake
Food cooked over hot coals or direct flames will produce carcinogenic compounds, but we can avoid them by marinating the food beforehand.
34. Reduce the amount of deep-fried food you eat
Trans fat from deep-fried food could give you a heart attack so eat in moderation.
35. Optimize your breakfast
Start your day as you plan to go on, with a full belly and a ton of energy! Can you get a serving of vegetables in your breakfast?
36. Eat organic
You want to avoid pestacides and fossil fuelled based fertilizers if you can.
37. Eat locally produced food
It will be tastier and a lot healthier as it doesn't need to be transported from the other side of the world.
38. Learn to cook at home
Almost everything is healthier, and tastier, when made in your own kitchen.
Read More: How to Learn to Cook at Home: 4 Simple Habits you Need to Succeed
39. Choose real treats in moderation
Get a small piece of the great chocolate instead of a large slab of the diet version. Treats are an important part of a healthy diet.
40. Plan ahead when eating out
Take a look at the menu beforehand, when you are not starving, and decide what will work with your health goals as well as being a yummy meal.
41. Eat regularly – simple way to improve health and wellness
Our circadian rhythm works best with regular eating habits. Try to eat your meals at the same everyday to avoid "food induced jet lag".
42. Meal prep
If you have something tasty in the freezer it's a lot quicker to heat it up, than order a takeaway.
Read More: Do I Deserve to Eat Even If the Calories Don't Add Up?
Improve Your Health by Choosing What You Drink
43. Drink water with your meals
This simple habit can remove a lot of unnecessary sugar and sweeteners.
44. Reduce your alcohol consumption
I'm sorry to say it but moderation really is key.
45. Don't have milk or creamer in your coffee or tea
Get good quality drinks and you will not miss it!
46. Quit soda, including diet soda
It's just not worth the havoc it wreaks on your blood sugar levels.
Read More: To Quit Diet Coke Taught Me how to Break any Bad Habit
47. Drink herbal tea
Healthy and tasty if you get bored of water.
Read More: How to Lose 18 Pounds with 6 Healthy Habits
Habitat Hacking for Healthy Living
Make healthy living a lot easier by making sure your surroundings are working for you – not against you.
48. Use a wireless headset
Making sure you can move around during meetings and phone calls.
49. Out of sight out of mind
Anything you want to stay away from, hide it in the back of a cupboard, or even better, keep it out of the house all together.
50. Keep exercise equipment out in the open
So you remember to pick them up.
51. Whear clothes you can move in
This way you can have mini work-outs or stretch sessions throughout the day.
52. Use smaller plates
Research shows this will make you eat less.
53. Put away leftovers before eating
It will make it a lot harder to go back for seconds.
54. Prepare healthy snacks
Having some nuts with you will stop you from buying that chocolate bar.
55. Use an app to remember to move often
Install an app on your computer or phone, reminding you to get up and move around regularly.
56. Put a pull-up bar on your wall
And use it. If you can't pull yourself up, just use it to hang in.
Increase Balance and Flexibility to Improve Your Health
57. Stretch regularly
You can stretch when you wake up in the morning, after walking home from work or before bed – find what works best in your schedule.
58. Incorporate yoga into your weekly routine
You will feel the difference in your body and mind.
59. Stand on one leg when you brush your teeth
This way you will be practicing balance several minutes a day without having to take time out of your day.
60. Start the day with movement and stretching
Wake your body up and get the blood circulating before sitting on a chair all day.
Improve Your Mental Health
61. Consider the 5 people you are closest too
They have a great deal of influence over your thoughts and feelings.
Read More: How to Achieve your Goals in Life: Choose Your Friends Well
62. Be kind to yourself
You are a worth wile person, also when you don't succeed.
Read More: How to Make Yourself a Priority – Not Just an Option
63. Work on your self-talk
Never say anything to yourself you wouldn't say to your best friend.
64. Consider your automatic thoughts
Some things pop into our brain automatically. These are habits we can change if they don't serve us.
65. Have motivational quotes visible
Remind yourself of things you tend to forget:
You will be too much for some people. Those are not your people.

Karen Salmansohn
Read More: 12 Exercise and Mental Health Quotes: Live a Better Life
66. Analyse your beliefs
Is what you believe about yourself helpful? Or is it a belief from the past that it may be worth reconsidering?
67. Meditating is a great way to improve your health
Take a few minutes and stop thinking to give yourself space.
Read More: 10 Good Mental Health Habits to Start Today
68. Improve your health by journaling
Writing things down can provide a lot of clarity.
69. Turn off all notifications on your phone
There is an unconscious hormonal stress response associated with notifications. Turn them off and check your phone at regular times instead.
70. Turn off all notifications on your computer
You don't need to be interrupted by incoming emails. Complete your task, then check your emails.
71. Take regular breaks
Take big breaks or small breaks but make sure you do take a breaks. Take a break now! Then come back and read on.
72. Schedule worry-time
Re-train your brain not to worry as soon as a thought pop into your brain. Write it down and think it through later, at your scheduled worry time.
73. Ask for help to improve your wellness
Ask a friend or a professional for help and support when you need it.
74. Read a good book
Pick something that makes you feel great, not something you think you should read.
75. Talk to friends and family
Pick up the phone, and go and visit if you can. Texting is not the same thing.
76. Go out in daylight every day
The vitamin D hit will get you a lot of health benefits, not to mention the benefit to your circadian rhythm helping you to get a good night sleep.
Read More: 10 Health Benefits of a Daily Morning Walk
77. Declutter
Calm space, calm mind.
78. Take care of your relationships
They are valuable. Make sure the way you spend your time reflects your priorities.
Read More: Personal Resource Management: How to Use Your Personal Resources
79. Hug people
A lot. When appropriate and safe.
Sleep Better for Improved Health and Wellness
80. Go to bed at the same time every day
And early enough that you can get enough sleep.
81. Avoid your phone an hour before bed
Avoiding blue light is great for sleep, but even with a blue filter on, all those notifications, news headlines, and other input, will keep your mind busy instead of winding down for bed.
82. Keep your bedroom cool
Get a warm blanket if you need to but keep the room cool, it will make you sleep better.
83. Keep your bedroom dark
Remove anything that generates light incuding gadgets.
84. Use a sleep mask
If you can't get your bedroom truly dark.
85. Keep your bedroom quiet
This is key for good sleep hygiene.
86. Use earplugs
If you are traveling or just can't get your bedroom quiet.
87. Don't let your fury friends in your bedroom
They are oh so cuddly, but they will disturb your sleep.
88. Drink less coffee and tea
Especially late in the day. Or have some herbal tea!
89. Get up at the same time every day
This will make it easier to go to bed at the same time as well!
Dental Health
90. Have regular check-ups at the dentist
Just book it in!
91. Schedule regular cleanings with your hygienist
You will feel so much better with healthy teeth and gum.
92. Brush your teeth every day
Preferably with an electric toothbrush, and change the toothbush head every two months!
93. Floss every day
Or use the mini-brushes that fits between your teeth to get healthier gums.
94. Stop smoking
Not just for your dental care!
Improve Your General Health
95. See your GP when something is wrong
You need to get help when something is wrong. That's why they are there.
96. Get regular health check-up
For all those invisible health problems.
97. Have all health screenings you are offered
If anything is wrong you want to catch it early!
98. Let fresh air into your house every day
You will feel better and stay healthier.
99. Wash your hands frequently
Especially after being out and about.
100.   Get started!
Nothing will change unless you change something. Pick one thing and create a habit that makes it automatic. Then come back to this post and find new ways to improve your health and wellness.
Read More
Your Health is a Priority: A Complete Guide to a Healthy Life
Habits to Improve Your Life: The Ultimate Guide
17 Simple Hacks to be Healthy on a Budget
Get Walking for Great Physical and Mental Health Benefits
Book Tip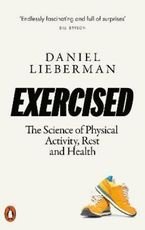 Exercised explains everything you have ever wanted to know about exercise:
Why do so many of us avoid it even though we know it's good for us?
Is sitting really the new smoking?
Does running ruin your knees?
Should we do weights, cardio or high-intensity training?
How to we make sense of the conflicting, anxiety-inducing information about rest, physical activity and exercise we are bombarded with every day?
Lieberman, professor of human evolutionary biology at Harvard University and pioneering researcher on the evolution of human activities, approaches this exciting topic in a way that's both entertaining, enlightening and constructive. A must read for anyone trying to figure out how best to exercise.
Check out Resources for Personal Development for more tips!