This post may contain affiliate links. You can read my affiliate policy here.
Are you struggling to live your life the way you want to? That's not at all surprising! Some 95% of our thoughts are unconscious, and that includes most of our habits, which means that almost everything we do goes on autopilot. To truly change, we need to become conscious of our daily habits and make sure we align them with our values and goals. Then put them back on autopilot! That way we can create a life we can't wait to live. This is the complete guide to create habits to improve your life, and to make sure those habits continue to serve you – forever!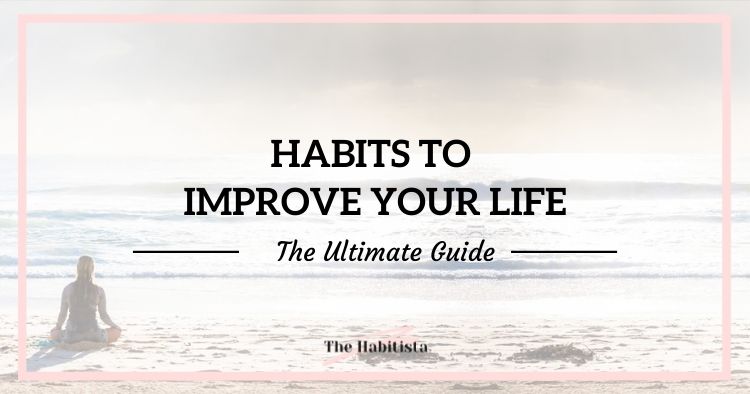 Identifying Your Values and Goals
Before starting to change our habits, we need to make sure we know how we want to change. By being clear on our life values and overarching goals we can start imagining a future life that is more in line with those values and goals.
Start with the following exercise:
Write down where you want to be in 10 years.
It might look something like this:
I want to live in a big house, become a Vice President at my company, have a husband and 3 children. And be skinny.
Now, re-write this looking for the reasons behind those goals.
I want to live in a big house might be:
I want space for a large family.
Or it might be:
I want everyone to see how successful I am.
And I want to become Vice President may become:
I want a challenging and interesting career where I'm being acknowledged and rewarded for my contributions.
Be skinny might become:
I want to be healthy so I can play with my children.
Once you have identified this overarching direction you want to take your life, we can start looking at how to get there.
Read More: List your Personal Core Values and Beliefs to Become Confident in Your Choices
Read More: Find Your Life Purpose – 5 Step Guide to an Intentional Life
Choosing Areas of Your Life to Improve
So how do we get from where we are to where we want to be?
One step at the time.
If we try to do too many changes at the same time, we often become overwhelmed or exhausted. The key to sustainable change is to continue to do many small changes that over time accumulates and takes you were you want to go.
But where to start?
Start with what would make the biggest impact on your life. If your health needs improvement, start there. The energy you get from feeling better will really help you making other improvements to your life moving forward.
Do you have your health, but you don't have the money-habits in place to reach any of your other goals? Start there!
I have adapted Maslow's Hierarchy of needs to better suit the modern western lifestyle:
Start at the bottom and work your way up to figure out what is the most impactful area you can work on to start taking you in the direction of your 10-year vision.
Read More: What Can I Do to Change my Life and Become my Best Self?
The Personal Management Cycle
Once we have identified the first area to work on, we can use The Personal Management Cycle to implement and adjust the habits we need.
The Personal Management Cycle is derived from the Performance Management Cycle, one of the most powerful corporate change management tools in existence.
In short, the Personal Management Cycle starts with learning. To be able to change something you need to know enough about it to implement the habits and systems that will ultimately take you where you want to go. To understand which habits you need to improve your life.
You will then choose a few small changes you want to make in your life. You will implement them systematically, track them, and finally review how they are serving you.
Read More: The Personal Management Cycle
Learn How to Improve Yor Life
Get reading, talking, listening and generally immerse yourself in the topic of what you want to improve!
If you are working on getting to a healthy weight you may want to learn about nutrition and the roles of movement and exercise.
If you are working on improving your finances, you may want to learn about budgeting, debt management or investing.
Learn enough that you feel confident that what you decide to change has a high likelihood to take you in the direction you want to go.
Read More: Explore the books I found most helpful in changing my life.
Plan How to Implement Your New Daily Habits to Improve Your Life
Consistently making small changes over time adds up to big changes. By finding those really small habits that we can keep up over time we can create long term, sustainable improvement.
However, some changes will make more impact than others. If you want to get to a healthy weight, stopping your midnight ice-cream habit will make a bigger impact than walking for 10 minutes.
If you want to improve your finances, paying off your high interest debt will make more of a difference than paying off your low interest debt.
We are different as people and for some, an early easy win is more important to stay the course. Others want to make sure they focus on the big stuff straight away.
Both ways are fine as long as you tackle the big stuff eventually!
Exercise: Brainstorm New Habits to Improve Your LIfe
Brainstorm everything you can think of that would take you towards your goal. Make it as specific as you can – an action rather than a general idea.
If you are looking at getting to a healthy weight the list might look something like this:
Eat veggies with every meal
Walk every day
Do yoga twice a week
Quit the sugary breakfast cereal
…..
Put each action on a post-it.
Need some inspiration?
Read More: 100 Simple Ways to Improve Your Health With 1%
Read More: Want to Have More Money? 100 Easy Ways to Improve Your Finances
Put the post-it's on a table:
If they would….
… have high impact put them further away on the table.
… have a low impact put them close to you.
… be easy to implement put them to the right. If they would be difficult to implement put them to the left.
It will look something like this:
Now look to your top right. What is the highest impact, easy to implement action you can take?
Decide where you are on the preference of high impact and easy implementation and choose 2-3 to work on. No more!
By really focusing on a few items we can make sure that we get our habits and systems in place to make them at least semi-automatic before tackling new habit changes.
How to Create Habits to Improve Your Life:
There are 3 steps in the creation of a habit: Trigger (Cue), Response (Action) and Reward.
Trigger / Cue
Something needs to remind you to do the new habit you are implementing. It can be that you pair it with an already established habit (habit stacking). You can, for example, decide to always do the dishes when you leave the table.
It can be time bound, like always taking a walk at 5pm.
You can set yourself a reminder that pings you, say every hour, to make sure you get up from your chair.
Read More: Habit Cue: A Key to Making or Breaking a Habit
Response
This is the action you have decided to take. Go for a walk, not grab the sugary cereals, or wait a day before you buy that trinket online.
Make sure you make the action really small so you can always do it, even on your "off" days. A small change done consistently will have a lot more impact than doing a big thing once.
Read More: How to Accomplish Your Life Goals by Improving 1%
Read More: Concept of Growth and Development: Effort vs Result
Reward
Finally, make sure you get something out of the habit. If you are not getting any benefit from it, you will not keep it up long term.
It can be an immediate reward, like endorphins after a run. It can also be a more sudden reward like not having icky teeth after flossing.
Are you struggling? Is there any way you can make the action more rewarding? Listen to your favourite book wile going for a walk? Puting £5 in your savings account every time you don't by something?
Read More: Use Your Personal Reward System to Create Habits that Serve You
Read More: How to Make a New Habit with the Power to Change Your Life
Implement and Systemise Daily Habits to Improve Life
Once you have made all your plans it's time to actually do it. Start today. It's very easy to get stuck in the learning and planning phase but taking an imperfect action in the right direction is always better than trying to find the perfect action, and doing nothing.
Every action you take is a vote for the type of person you wish to become.

James Clear, Atomic Habits
In addition to starting your habit you should also be tracking it, to be completely clear with yourself on how you are doing.
Walked 10 minutes today? Gold star!!
There are a lot of habit tracker apps, or you can use a paper version if you prefer actual gold stars!
Get the Habitista Printable Habit tracker for free below!
Read More: Accountability to Yourself: How and Why it's Important
Review How Your New Habits are Serving You
The final step in the Personal Management Cycle is the Review. This is a critical step for success!
On a regular basis you need to take a look at your new habit and see how they are working for you:
Are you doing what you planned?
If not, why?
Do you need a better trigger or better reward?
Or were you trying to do too much?
This is also a great time to see if the habit is serving you as you thought and make plans for any possible obstacles coming up:
You are great at eating your veggies, but you are going on a work trip and know eating healthy will be tricky? Make a plan beforehand so you are not tempted to break your new habit just because your environment change.
Make sure you schedule a type of review that works for you. You can:
Set up a weekly accountability call with your friend or sibling
Set a reminder for yourself at a time you can take 5 minutes to think things through, like during your daily walk
Find an accountability buddy online in a group pursuing the same goals
Pay a coach to keep you on track
Read More: Long-Term Habits: How to Make Habits Last a Lifetime
Add New Small Habits to Change Your Life Further
As your habits become established you can add new habits to further improve your life. Go back to the post-it exercise. Either do it again with your new learnings, or just check if there is anything else on there that is now worth implementing. (You did take a picture of it, right?!?)
Continue this process until you feel you are thoroughly going in the right direction and that this direction has become a part of your identity.
If your goal is to get to a healthy weight for example, you might start with changing your cereal and taking a short walk every day. Over time however, you might add more veggies to your meals, start strength training or reduce your evening snacking.
Read More: To Quit Diet Coke Taught Me how to Break Any Bad Habit
Time to Improve Something Else in Your Life
When you are thoroughly on your way you can start considering changing your focus to another area of life you want to improve. But don't do this too soon!
You want your new habit, your beliefs, and your identity, to have fundamentally changed before you change your attention to something completely different.
And make sure you continue regular reviews to make sure you are not changing back the moment you change focus!
Maybe schedule monthly accountability calls instead of weekly and see how you get on?
This is a great time to go back to that description of where you want to be in 10 years. Is it still the same? Has something changed? When you are happy that it reflects who you want to be, start again identifying which area to work on to take you towards becoming that person.
Changing Your Life with New Small Habits
Creating habits to improve your life can seme daunting, while at the same time seem too small to make a difference.
Trust me, changing what you do everyday is the only thing that will truly change the direction of your life.
By following this process, you can approach change in a systematic way, knowing that you are truly on your way to becoming.
Do you know anyone who needs help to change? To improve their life? Share this guide with them and be each-others accountability partners!
And leave me a message and let me know how you get on!
Read More
How to Make Yourself a Priority – Not Just an Option
Concept of Growth and Development: Effort vs Result
How to Accomplish Your Life Goals by Improving 1%
How to Combine Beliefs, Values and Habits to Change Your Life for the Better
How to Achieve your Goals in Life: Choose Your Friends Well
Book Tip:
Atomic Habits is one of the most important books about habit creation, and thus a key resource for personal development. It includes a powerful insight to the power of habits, how to design systems that works for YOU, and how to master the tiny behaviours that lead to remarkable results. If you haven't checked it out yet, this is a game changer.