This post may contain affiliate links. You can read my affiliate policy here.
By learning accountability to yourself you can accomplish anything you set out to do. You make decision about your life and you stick to them. If you change your mind, it's a deliberate decision, not a failure of willpower. Learn why holding yourself accountable is important and the techniques you can use to improve your accountability to yourself.
What is Accountability to Yourself?
Accountability is being responsible. Accountability to yourself is to take responsibility for the decisions you make and the actions that you take. And for the consequences of those actions.
Do you want to be healthier but still eat the cake you know you shouldn't?
Have you ever said that you will start saving money, but then spent it all?
Are you having that second (or third) glass of wine even though you promised yourself you would only have the one?
By not being accountable to ourselves, not taking responsibility for our decisions and actions, we let life happen to us. That makes us feel out of control and as we are failing in life.
By being accountable, by taking responsibility, for our decisions and for following them through, we can start taking control over our own lives.
If the cake is a delicious treat and it's a special occasion, we will decide to eat it and savour every minute of it, without feeling bad afterwards. If the cake is stale after laying around in the office kitchen for two days, we may make a different decision.
Being accountable to yourself is not about being deprived, never doing anything fun, or never being spontaneous. It's about mindfully choosing what we want to do. Then do that. And feel really good about it afterwards!
Why is Accountability to Yourself Important?
How does it make you feel when you hit snooze instead of going for the morning run you said you were going to do?
How does it make you feel when you said you were going to take your kids to the park, but you worked late instead?
Accountability to yourself is important because it shows you that you are important. You respect yourself. You take yourself seriously. And it shows everyone else they should respect you too.
Being accountable to yourself is an important step in creating the life you want for yourself. To become who you want to be. To trust and respect yourself.
So how can we improve our accountability to ourselves?
How do You Hold Yourself Accountable?
Identify Your Guiding Priorities
To be able to be accountable to yourself you need to know who you are. What do you stand for? What do you want? Do you know the right thing to do, for you?
When you say you want to lose weight, what does that mean to you? Is being a size 8 so important to you that you are truly ok with never having another cake? If you have a job where your appearance is critical it might be. But for the rest of us, if we really think about it, we would rather be at a healthy weight without depriving ourselves.
Consider who you want to be in life. Not who you think you should be, but who you really want to be.
In ten years' time, do you want to look back on yourself working hard to make a career? Or do you want to look back on yourself as someone who was home for dinner every day? Somewhere in between? Maybe you want to be the person who really focuses on their work but have clear boundaries and prioritise a health work life balance.
Consider your core values and write them down, to make them clear to yourself. These are my core values, yours may look very different: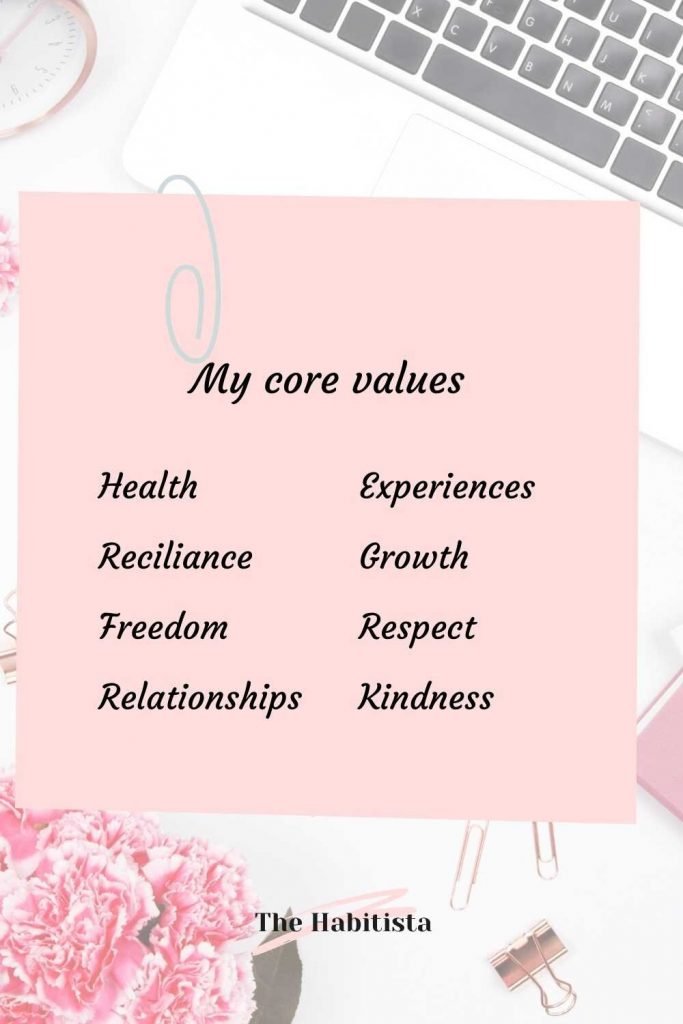 Read More: Making a List of Personal Values Will Help Guide Your Choices
Read More: Find Your Life Purpose – 5 Step Guide to an Intentional Life
Accountability to Yourself: Identify the Right Habits
Now that you understand your core values, who you want to be, its time to identify habits and actions that takes you in the right direction.
If you want to be healthier that could be:
Eat less sugar
Move more
Take a daily walk
Drink less alcohol
Start strength training
You don't need to change your life overnight. Actually, it's better if you don't! Being accountable to yourself is about understanding what changes you can sustain. To be true to yourself of what you can commit to.
Would it be possible to swap ice-cream for frozen fruit?
To take a 20-minute walk before work?
Pick one or two things that feels doable. Something that you can truly commit to.
To learn to be accountable to yourself you need to start trusting yourself. Don't set yourself up for failure. You need to get used to the fact that you can achieve what you set out to do. To make that happen, only commit to what you can actually do.
If you know, deep down, that you are not ready to make that change permanently, don't try. Not now. If it's important, you can work your way up to it. Make other changes. Learn to trust that you can change. Be ready.
Read More: Habits to Improve Your Life: The Ultimate Guide
Read More: Use Your Personal Reward System to Create Habits that Serve You
Make Habits and Actions Small
In the same way that we shouldn't tackle too many things at once when we change, we need to make the habits and actions we commit to small enough that we can do them over and over again.
The critical point in learning to hold ourselves accountable is to learn that we can. Self-accountability is to trust ourselves to take responsibility. That we do what we set out to do. That we take responsibility for what we say and do.
Make the change small enough that you can do it. Even on a bad day.
If you are starting a walking habit, commit to walk every day. You may want to walk for an hour every day but can you commit to that?
What if you have a bad cold?
There's a storm raging?
You get busy?
You can aim to walk for an hour every day but only commit to walk for five minutes. That way you set yourself up for success. You learn that you can do what you set out to do. That you take responsibility. That you can hold yourself accountable.
Implement a Review System to Confirm Your Accountability to Yourself
The next step to learn to hold yourself accountable is to check in with yourself. To make sure you are on track. To be able to see if you do what you set out to do.
There are many ways of doing it, and you may want to try a few ways to find what works for you. The important thing is that you do it.
Consider the walking habit. If you decide to walk everyday you probably will for a few days, but then one day you don't for a good reason. And the next day you don't get around to it either. On the third day you completely forgot about it. And you add it to the list of things you failed at. Because you didn't have a system to hold yourself accountable.
Habit Tracker
One good way to visualise your accountability to yourself is a habit tracker. You can keep it in on the inside of a door where you see it every day. Or you can put it on the fridge and give yourself a gold star every time you go for a walk!
Download the free habit tracker below to get started today!
If you prefer to keep things digital there are a number of habit tracker apps. Or you can use a spreadsheet. Make a tick in your diary.
If a habit tracker isn't your thing then try to set yourself reminders in your calendars. Regular times to check in and consider how you are doing.
Need an additional push? Get an accountability buddy and have regular check-ins! Being accountable to yourself doesn't mean you have to go it alone. It means you have to find a way that works for you. A way to get into the habit of trusting yourself. To see that you continue to do what you set out to do.
Read More: Long Term Habits: How to make Habits Last a Lifetime
What to Do When You Fail
Even in the best of world you will sometime fail. You will eat the stale biscuit. Buy that expensive toy you don't use. Feel too rubbish to take a walk.
So, what do we do then? Do we take it as a sign that we just can't hold ourselves accountable and give up? Stop trying? We failed right, might as well eat all the biscuits in the tin.
Not this time! We acknowledge that we are fallible. We are human and we are not perfect. But we are still worthwhile.
Then we consider what we could have done differently. If we are in the same situation again, is there something we can do to make a better decision? To set ourselves up for success next time?
You had planned an elaborate home cooked family dinner on Friday night but when Friday night came around you were too tired to even consider cooking and instead ordered pizza and ate it on the sofa. Sounds familiar?
You could berate yourself, decide that next week, next week you will do it. And then continue the cycle of failing. Of reinforcing to yourself that you can't hold yourself accountable for your decisions.
Or you can consider why you ordered pizza instead of cooking. You were tired right? It had been a long week. Will that change next Friday? Not likely. So is there anyway you can prepare so that you can have a homecooked meal even when you are tired?
You could consider:
Making a meal that can be frozen (Bolognese anyone?) so you just need to boil some pasta and cut some veggies?
Make someone else in the family cook?
Plan the easiest meal you can think of that you would still enjoy?
Making cooking into a family event with everyone pitching in?
And if none of the above things work, you can make the conscious decision that Fridays is take away night! You plan for it. Consider what you will eat. Make it an event. Enjoy it!
Stay Accountable to Yourself
Accountability to yourself takes practise. You need to start trusting yourself. To see yourself succeed. To stay responsible to your decisions and your core values.
Make conscious decisions and find peace in the knowledge that you do what you set out to do. That you can trust yourself. And the best time to start is today!
Read More
Goals and Systems: How to Achieve Your Wildest Dreams
How to Combine Habits and Values to Change Your Life for the Better
Your Health is a Priority: A Complete Guide to a Healthy Life
Long Term Financial Goals: Step-by-Step Guide to Success
The Inner Work to Do to Achieve Your True Goals